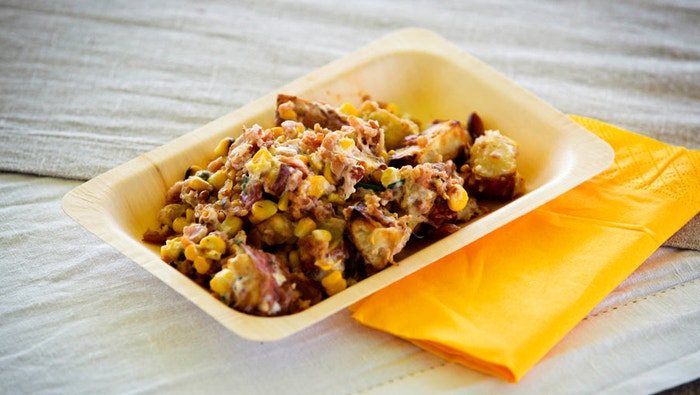 Steps
Preheat oven to 200C. Line 3 large baking trays with baking paper.
Cut the sweet potatoes into 3cm cubes. Toss with oil and salt and pepper to taste and place on prepared tray. Bake in the preheated oven until golden brown and tender, about 30 minutes. Transfer to a large bowl.
Lay bacon on baking trays and bake for 20-25 minutes until crisp. Drain well on kitchen paper then transfer to food processor and blitz to a coarse crumb. Add to bowl of sweet potato.
Heat a large griddle pan and grill corn, seasoned with a little salt, turning frequently until tender and beginning to colour, about 12-15 minutes. Allow to cool slightly. When cool enough to handle, use a large knife to slice the kernels from the cobs, then add to the bacon and sweet potato.
Combine remaining ingredients in a medium bowl and whisk with a fork until well combined to make a dressing.
Before serving, pour dressing over salad ingredients and toss through gently until well coated.