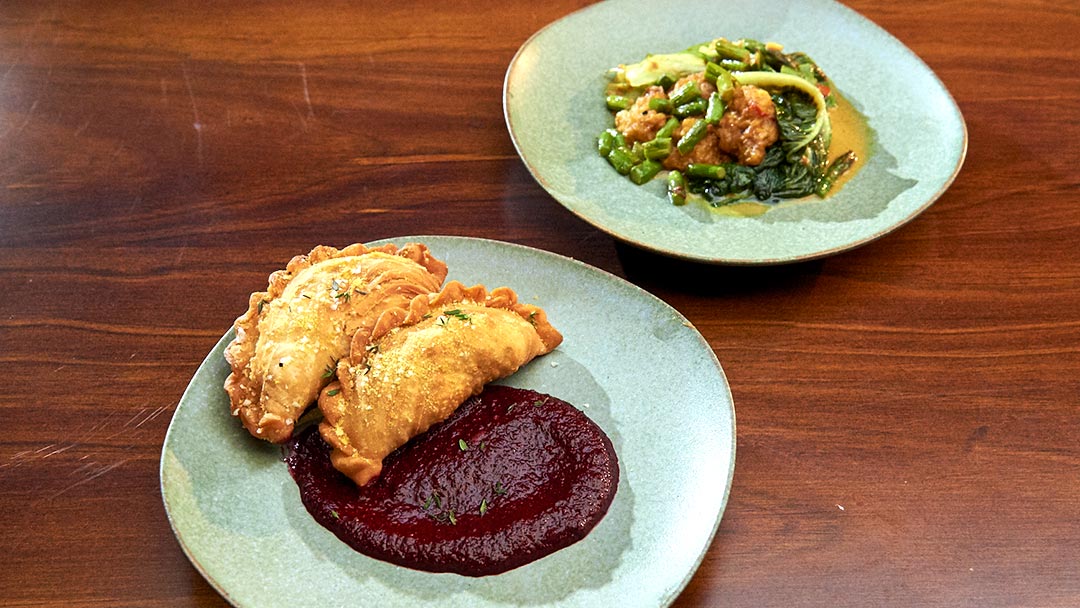 Ingredients
Seitan and Stir Fried Veg
Steps
Preheat oven to 200C.
For the Spiral Puff Pastry dough, place 150g flour into a small bowl. Add water and salt to and mix to a soft dough. Knead briefly until smooth, about 2 minutes. Roll into 20g balls and cover with upturned bowl.
Place remaining 85g flour and butter into a bowl and mash together so it just binds together. Roll into 15g portions.
Flatten the 20g flour and water balls and place a flour and butter ball in the centre. Wrap the flattened ball around the filling and seal completely. Reshape into a ball then flatten by hand and roll out with a rolling pin into 2-3mm thick circles. Repeat with remaining dough balls. Place onto a lined tray in a single layer and set aside in the fridge.
For the Sweet Potato Filling, place sweet potato and garlic in a bowl and toss with 1 tablespoon olive oil, salt and pepper. Roast in the oven until tender, about 25 minutes. Remove from the oven. Remove the garlic skins, chop the flesh and set aside.
Place olive oil into a fry pan over medium heat. Add the leek and chopped garlic and cook until soft and fragrant, about 5-6 minutes. Add the roasted sweet potato and nutritional yeast. Add a dash of vinegar and salt and pepper, to taste. Remove from the heat and chill before using.
To make the pastries, divide the sweet potato filling between the dough circles. Press the edges together and crimp firmly to seal, using a little water if required. Return to the tray, cover and set aside in the fridge until ready to cook.
To fry the pastries, place the oil in a medium heavy based saucepan over medium heat. To check if the oil is hot enough, rest the tip of a pair of chopsticks on the bottom of the pan and if a steady stream of bubbles emerge, then the oil is ready, about 170C. Cook pastries, in batches, for about 7 minutes until golden brown, turning to ensure even cooking and colouring. Remove from oil and drain on kitchen towel.
To make the Seitan, combine the flour and water to a dough and knead until you have pliable, smooth dough, about 5 minutes. Set aside to rest for 20-30 minutes, then rinse and knead in a colander submerged in a bowl of cool water. Squeezing and rinse the dough, changing the water until it runs clear and you are left with a small amount of seitan – it will be rubbery, porous and beige in colour.
Heat olive oil in a medium saucepan over medium heat. To check the oil is ready, rest the tip of a pair of chopsticks on the bottom of the saucepan. If a flurry of bubbles emerge the oil is hot enough, about 180C. Before frying press the seitan into a clean, damp tea towel to remove excess moisture. Tear off small chunks and fry until golden, about 15- 20 seconds. Remove with a slotted spoon and drain on paper towel. Slice them half.
To make the stir fry, combine 1 tablespoon olive oil, chillies and garlic in a small fry pan over medium high heat. Sauté until fragrant and golden then add lettuce, asparagus and fried seitan. Stir fry for a few seconds, until lettuce is just wilted, sprinkle in the nutritional yeast and 2 tablespoons water. Toss well and season with salt and white pepper, to taste. Serve immediately.
For the Beetroot Ketchup, combine the olive oil, beetroot, leeks and chillies in a medium non-stick fry pan over medium heat. Sauté until almost tender, about 10 minutes. Add ½ cup water, cover and simmer until water has evaporated and the beetroots are tender. Transfer to the canister of a stick blender. Add 2 tablespoons vinegar and the remaining ingredients and puree with a stick blender until smooth. Taste and add additional vinegar plus sugar, salt and pepper to balance – you want a good hit of sour, salty, sweet. Serve with the warm pastries.