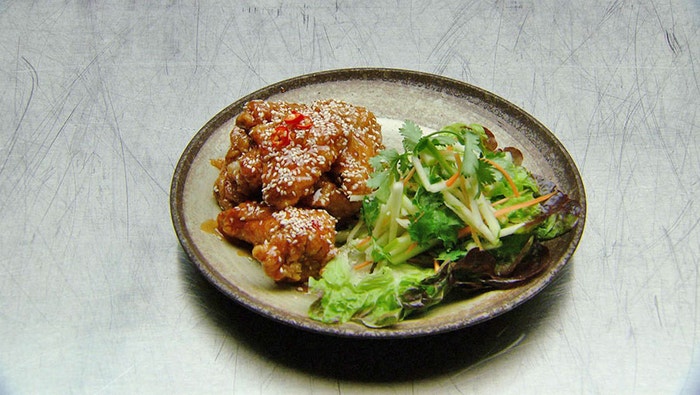 Steps
Place vegetable oil in a large saucepan and set over high heat. Heat oil to 190C.
For the Fried Chicken Wings, place chicken wings, garlic, ginger, lemon juice and zest, 1 teaspoon salt, and ½ teaspoon pepper in a bowl and mix well. Set aside in fridge to marinate for 15 minutes.
For the coating, place tapioca starch, smoked paprika and remaining salt and pepper in a separate bowl. Add marinated chicken wings and toss to coat. Shake off excess then deep fry, in batches, until golden and crispy on the outside and cooked through, about 8-10 minutes. Remove chicken wings from the oil and set aside to drain on paper towel until serving.
For the Sweet and Sour Honey Sauce, place honey, tomato sauce, tamarind paste, lemon juice and zest and chilli into a small frypan and bring to a boil over medium low heat.
Meanwhile, mix tapioca starch with 2 teaspoons of water in a small bowl. Add to the frypan, stir well and return to a boil. Immediately remove from heat and set aside until serving.
For the Apple Salad, place half of the lemon juice and 2 cups of water in a medium sized bowl. Finely cut apple into 5mm matchsticks, add to the water and set aside.
Finely slice carrot into 5mm matchsticks and place in another bowl. Add coriander, strain the apples and add to the bowl and toss to combine. Set aside.
For the dressing, dissolve the palm sugar in a frypan with 2 tablespoon of water over low to medium heat. In a separate bowl, place remaining lemon juice, fish sauce and salt then whisk in melted palm sugar. Allow to cool then pour over apples and carrots. Toss gently to coat and set aside until serving.
To serve, place salad leaves on the serving plates and top with a generous amount of Apple Salad. Toss the Crispy Chicken Wings in the Sweet and Sour Honey Sauce and place on the plates next to the salad. Garnish with a sprinkle of sesame seeds.