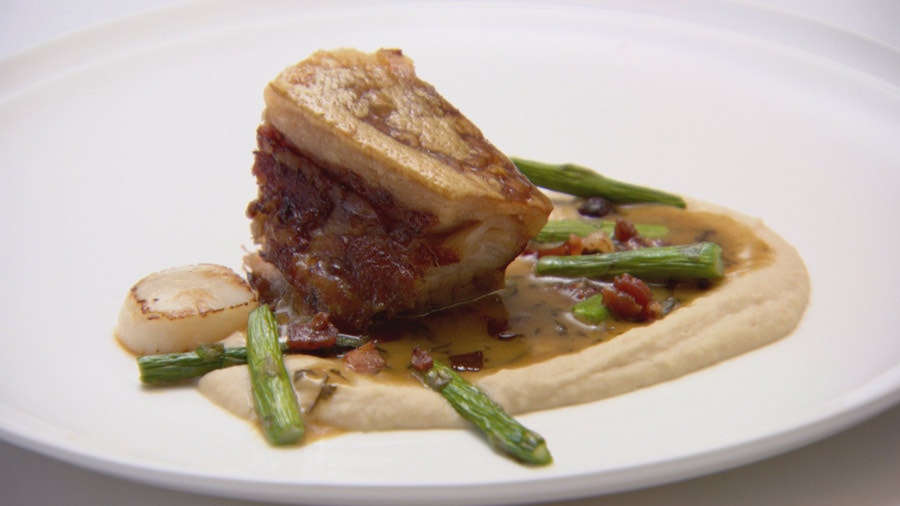 Steps
Preheat oven to 160C.
To roast the pork, place the onions, thyme and beef stock in a large roasting pan. Place the pork on top of onions. Rub olive oil into the pork skin and sprinkle with salt. Place in the oven and cook for 1.5 hours. Increase oven temperature to 200C and continue to roast until meat is tender, about another 45 minutes. Change oven to grill setting and grill pork until skin is crunchy, about 3 minutes. Remove from oven and allow to rest.
Meanwhile, to make the sauce, place the stock, shallots, garlic and wine in a saucepan and set over medium-high heat. Allow to simmer until reduced by half. Add lemon juice and simmer for another 10 minutes. Remove from heat, strain into a clean saucepan, season and set aside.
To make the bean puree, place olive oil in a saucepan and set over medium heat. Add shallots and garlic and cook until translucent. Add cannellini beans and the stock and simmer, uncovered, until vegetables are tender, about 10 minutes. Remove from heat and transfer to a blender. Add cream, mustard and lemon juice and process until smooth. Set aside, keeping warm.
Place asparagus on a baking tray. Drizzle with 1 tablespoon olive oil and sprinkle with salt. Place in the oven to roast until just tender, about 8 minutes.
Place 1 tablespoon olive oil in a frypan and place over high heat. Add scallops and cook until caramelised but still rare inside, about 30 seconds per side.
To finish the sauce, place over medium heat. Once warm, add butter, one cube at a time, whisking, until well combined. Add cream and parsley and whisk to combine.
To serve, carve pork into slices and place on serving plates. Add a spoonful of bean puree, 3 scallops and some roasted asparagus. Drizzle with wine, herb sauce and season with salt and pepper.