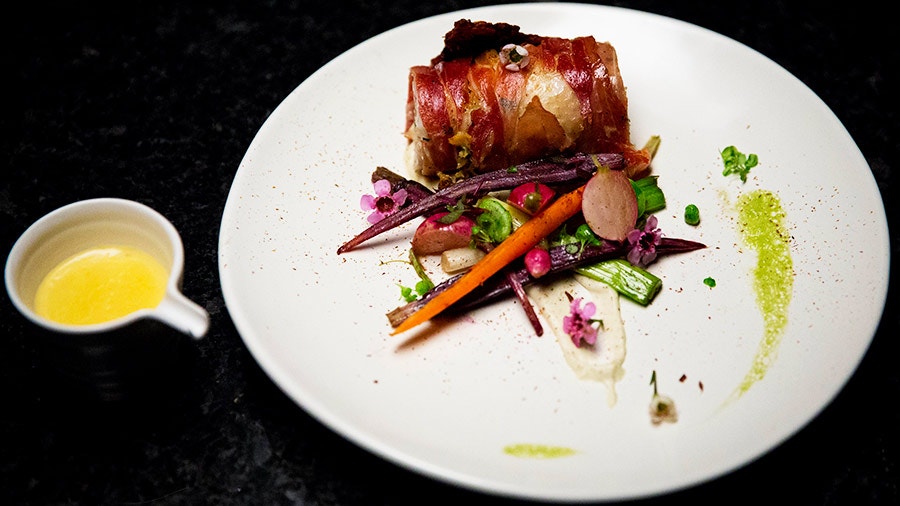 Ingredients
Herbed Chicken Mousseline
Herbed Chicken Mousseline
Steps
Preheat oven to 230C.
For the Onion Ash, place onion skin onto a deep baking tray and place into oven until blackened, about 45 minutes. Remove from the oven and allow to cool. Crush finely and set aside.
For the Herbed Chicken Mousseline, place all ingredients into a food processor and blend to a smooth paste. Reserve for the ballotine.
For the Chicken Ballotine, place a 30cm piece of aluminium foil onto a clean surface. Lay 5 slices of prosciutto vertically through the centre of the aluminium foil, with each slice slightly overlapping to form one layer. Lay a chicken Maryland fillet onto the layer of prosciutto then spoon some of the chicken mousseline lengthways along the centre of the maryland.
Gently roll the chicken tightly into a cylinder, using the prosciutto layer as a case. Ensure the ballotine is positioned so that the seam of the prosciutto layer is on the bottom. Top with a sprig of wax flower, then wrap the ballotine tightly in the aluminium foil. Repeat process for remaining ballotines.
Heat butter and oil in a medium frypan over medium heat. Unwrap ballotines from foil and place into the frypan. Fry the ballotines, basting with the pan liquid for until prosciutto has crisped slightly, about 2-3 minutes. Remove from pan and set aside to rest.
Remove Onion ash from oven and set aside. Reduce oven temperature to 200C.
Set a wire rack in a shallow roasting tray then place the wrapped ballotines onto the rack. Place into the oven to bake until chicken is cooked through, about 35 minutes then remove from oven and allow to cool slightly.
For the Chicken Crackling, line a baking tray with baking paper. Lay reserved chicken skin out flat onto the baking tray then season generously with salt. Lay another piece of baking paper on top then top with a second baking tray to weigh down. Bake in the oven until skin is golden and crisp, about 30 minutes. Remove from oven and set aside until required.
For the Chicken Stock, chop chicken wings and reserved bones finely and place into a large saucepan. Tie all herbs together in a bunch using a piece of cooking twine all ingredients into pot and cover with water. Add remaining ingredients to pot and cover with water. Place over medium heat and simmer until stock has developed a slightly golden colour, about 30 minutes. Remove from heat and strain through a fine sieve lined with muslin cloth. Set aside until required.
For the Pea Foam, place a small saucepan of water over medium heat and bring to the boil. Add peas and boil until bright green, about 2-3 minutes. Remove from heat and strain. Place peas and all remaining ingredients back into a tall canister with 500ml water and use a stick blender to blitz to a smooth purée. Season to taste and set aside until ready to serve.
For the Pepper and Parsnip Purée, place milk, butter and parsnip into a medium saucepan over medium heat and bring to the boil. Once boiling, reduce heat to low and simmer until parsnip is tender, about 5-7 minutes. Strain parsnip, reserving cooking liquid in a clean bowl. Place parsnip into a medium bowl and blitz using a stick blender until smooth, adding cooking liquid to loosen the purée if required. Season with Tasmanian mountain pepper and salt then pass through a fine sieve into a clean bowl. Sprinkle with truffle then set aside until required.
For the Vegetables, place water, stock and butter into a large frypan over medium heat and bring to a simmer. Add vegetables and cook, gently stirring occasionally until tender, about 4-5 minutes. Remove from heat and set aside until required.
For the Base Velouté, melt butter in a small saucepan over low heat. Once melted, whisk in flour to form a paste then continue to whisk over the heat for a further minute. Whisk in a small amount of the chicken stock and continue to add gradually, whisking in between each addition, until velvety and smooth. Remove from heat and set aside to cool.
For the Sauce Allemande, whisk egg yolk and cream together in a small bowl. Add a little of the cooled Base Velouté and whisk to combine then pour back into the saucepan of remaining velouté. Place saucepan back over low heat and cook, stirring occasionally, until slightly thickened, about 3-4 minutes. Remove from heat and whisk in lemon juice. Season to taste then transfer to a pouring jug and set aside.
To plate, smear some of the Parsnip Purée in the centre of the plate. Slice the rested Chicken Ballotines into thirds and lay out on top of the purée. Break up a few shards of the Chicken Crackling and rest against the medallions of ballotine. Arrange some Vegetables over the rest of the purée and then top with some wax flowers and micro herbs. Use a stick blender to foam the Pea Purée then spoon some of the foam over the vegetables. Place the Onion Ash into a fine sieve and gently push through the sieve over the plate to dust the dish.