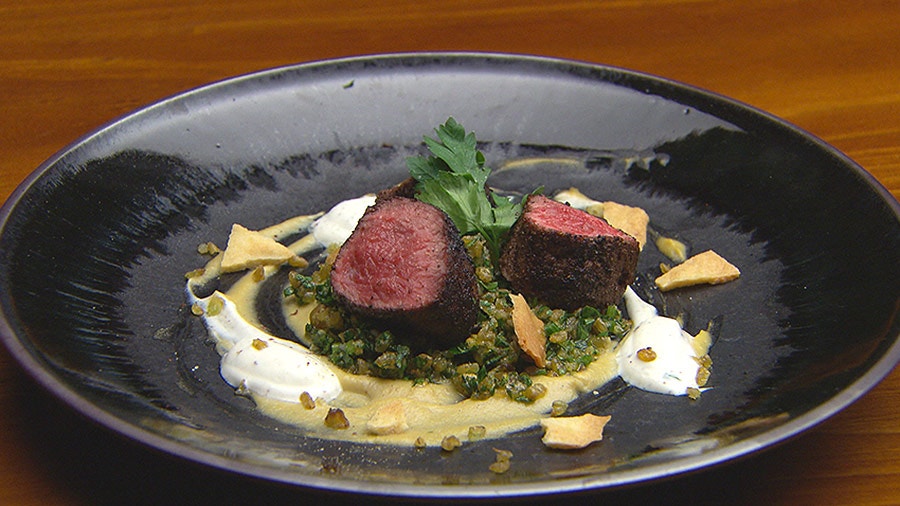 Ingredients
Smoked Eggplant and Tahini
Steps
Heat oven to 180°C and heat the sous vide machine to 56°C.
For the Freekeh Pesto, bring a saucepan of water to the boil, add freekeh and cook for 10 minutes. Drain well and place in a large non stick frypan along with 1 tablespoon of olive oil. Fry, with stirring, for 5 minutes, until crisp. Remove from pan and set aside on kitchen paper. Place the lemon zest and 1 tablespoon of lemon juice into a medium bowl. Add 2 tablespoons of olive oil, season and stir through, and then add toasted freekeh.
For the Lamb with Sumac, remove loin from rack and trim. Place loin onto cling film and roll and secure ends to form a cylinder shape. Seal in a bag and place into heated water bath. Repeat with remaining loin. Remove from water and allow to rest on a plate lined with paper towel for 5-10 minutes. Unwrap and roll lamb in sumac. Heat a large frypan over medium high heat and add olive oil. Cook lamb for 8 minutes, with constant turning, until medium and browned all over, or cooked longer to your liking. Remove from the pan and set aside.
For the Smoked Eggplant, place eggplant onto a gas flame and cook, turning continually, until skin is blackened and flesh is tender, which should take about 15 minutes. Place into a glass bowl and cover with cling warp to keep hot. Peel skin and place flesh into the canister of a stick blender along with egg yolk to ensure it cooks the egg and then blitz. Add tahini, salt and pepper and stir. Pass through a sieve and set aside.
For the Savoury Crisp, combine all ingredients in a medium bowl and whisk to a smooth paste. Using an offset spatula, spread onto a silpat lined baking tray. Season with salt and pepper. Cook for around 10 – 12 minutes, or until light golden and crisp. Remove from oven and set aside to cool. Break into small shards.
For the Yoghurt Sauce, combine ingredients in a small bowl and mix until well combine. Set aside in fridge.
To serve, smear serving plates with Smoked Eggplant. Place Freekeh Pesto in the centre of each plate. Slice lamb loins into 6 slices and place 3 on each plate. Dot the Yoghurt Sauce around plate and top with shards of Savoury Crisp. Garnish with Parsley leaves.