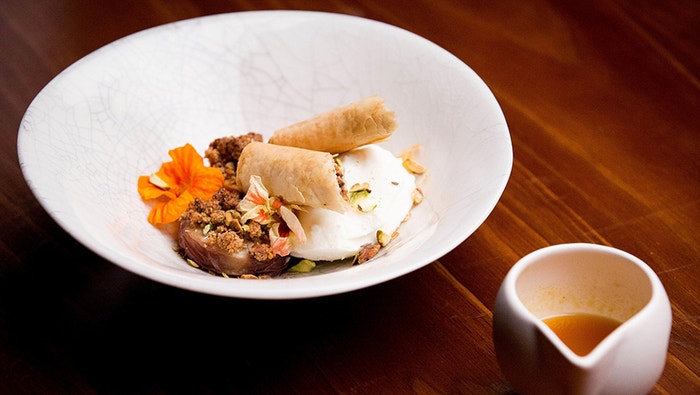 Steps
Chill ice-cream machine. Preheat the oven to 180°C.
For the Yoghurt Sorbet, place sugar, orange zest, thyme and ¼ cup water in a small saucepan over a low heat. Stir to dissolve sugar. Strain through a fine sieve.
Add sugar syrup to yoghurt and whisk to combine.
Transfer yoghurt mix to ice-cream churner and churn according to manufacturer's instructions until sorbet consistency. Once churned, transfer tub of sorbet to freezer.
For the Roasted Stone Fruit, place nectarines and apricots in a shallow baking tray, add remaining ingredients and toss gently.
Place into oven and bake for 20-25 minutes or until beginning to soften. Remove fruit from oven then use a melon baller to make a larger hole where to stone used to be. Set aside fruit while making the stuffing.
For the stone fruit stuffing, place all ingredients in a small bowl and mix to combine. Fill holes in fruit with stuffing then return fruit to oven for 10-15 minutes until filling is golden.
To make the Paneer and Date Cigar filling, place dates, paneer, pistachios, cinnamon, cardamom, sugar and salt in a bowl and mix to combine. Set aside.
Take one sheet of filo pastry and brush with melted butter. Repeat with another sheet of pastry then cut sheets in half. Top one half with 2 heaped tablespoons/ one quarter of date mixture and form into a log shape. Roll up pastry like a cigar, folding in at the sides and brush end with a little more butter to seal. Repeat with remaining filo and filling to make 4 cigars.
Place cigars on a lined baking tray, brush with remaining butter and bake in oven for 20 minutes or until golden brown . Remove from oven and cut each cigar in half on an angle, set aside until needed.
For the Bitter Orange Syrup, place all ingredients in a small saucepan over low heat. Reduce for 10 minutes until slightly sticky. Strain through a fine sieve and transfer to a bowl for serving.
To serve, place one stuffed peach half and one stuffed apricot half in the base of each serving bowl. Add a scoop of Yoghurt Sorbet to one side, top with Paneer and Date Cigars and sprinkle with pistachios and flowers. Serve with the Bitter Orange Syrup on the side.