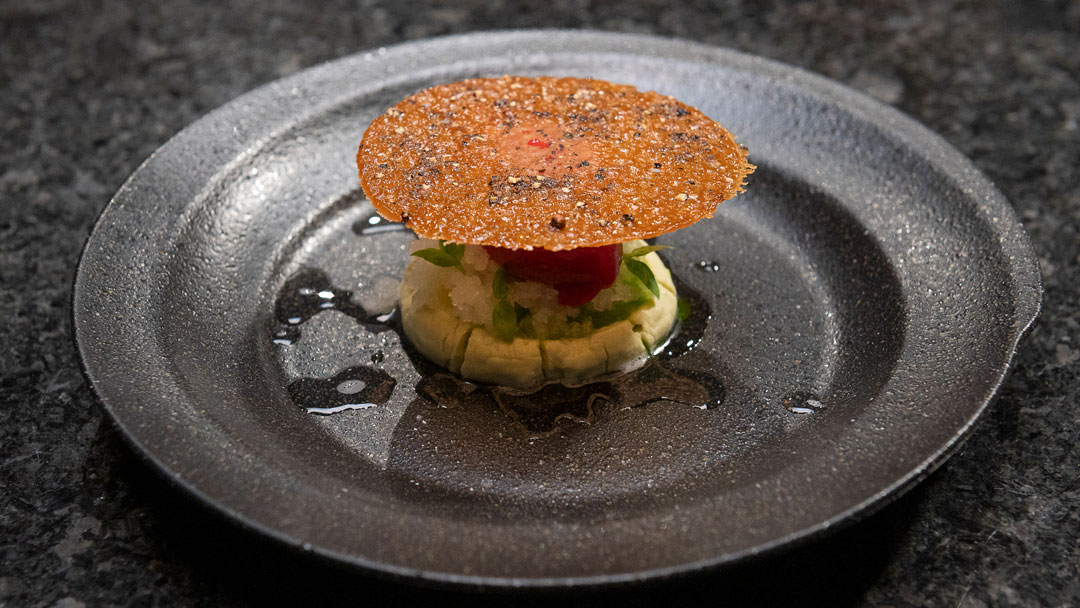 Steps
Preheat oven to 180C fan-forced and prechill an ice cream machine.
For the Lemon Granita, place 100mL water, caster sugar and lemon zest into a small, non-reactive saucepan over low heat. Stir until sugar dissolves completely, about 2 minutes. Remove saucepan from heat and stir in lemon juice and remaining water. Stir in citric acid to taste.
Pour mixture into a large, shallow tray and place in the freezer for several hours until mixture is completely frozen. Once frozen, use a fork to scrape surface to form fine ice crystals. Keep frozen until ready to serve.
For the Strawberry Sorbet, place strawberries, caster sugar, glucose, kirsch, freeze dried strawberry powder and salt in a blender and process the mixture on high speed until completely smooth, about 2 minutes. Strain mixture through a fine mesh sieve.
Churn and freeze mixture in ice cream machine according to the manufacturer's instructions. Transfer to the freezer until ready to serve.
For the Basil Oil, bring a large saucepan of water to the boil.
Remove leaves and finer stalks from one basil bunch, discarding larger stalks.
Blanch in boiling water for 30 seconds, then remove and transfer to ice water. Remove basil from ice water. Drain well and squeeze out excess water using paper towel.
Place oil and basil into a small food processor and blend until basil is thoroughly broken down and oil is bright green.
Strain oil mixture through a sieve lined with muslin cloth over a bowl without pressing or agitating the mixture for 10 minutes or until oil collects in bowl. Set basil oil aside in fridge in an airtight container until ready to serve.
For the Black Pepper Lace Tuile, whisk butter and glucose in a large bowl to combine. Sift in icing sugar and whisk to combine. Sift in plain flour and a pinch of salt and whisk to combine.
Place approximately 10 whole black peppercorns into a mortar and pestle and grind until fine. Whisk into the tuile mixture.
Place remaining whole black peppercorns in mortar and pestle and grind until coarsely ground.
Place heaped tablespoons of tuile mixture onto a large lined baking tray, leaving about 8cm between each tuile. After 5 minutes, once tuile mix has spread on the trays and bubbles but is not set, open oven and sprinkle each tuile with a generous pinch of the coarsely ground black peppercorns. Push a 10cm round or cutter into each tuile and return to oven to cook for approximately 5 minutes further or until tuiles are lightly brown and pepper is toasted and aromatic.
Remove from oven and let cool slightly, then run a knife around the inside of each round or cutter to release the tuiles. Set aside at room temperature until ready to serve.
For the Basil Diplomat Cream, make a crème patisserie. Remove leaves from 1 bunch of basil and place into a blender with milk and vanilla bean. Blend on high speed for 5 seconds or until basil and vanilla are coarsely blended with the milk. Pour mixture into a small saucepan and place over low heat. Leave mixture on the heat to infuse for approximately five minutes, stirring often with a silicone spatula to prevent scalding.
Meanwhile, whisk egg yolks, sugar and cornflour in a bowl until mixture is thoroughly incorporated.
Strain warm milk mixture through a fine mesh sieve into a saucepan. Add ½ cup of infused milk to egg yolk mixture and whisk to combine thoroughly. Whisk into saucepan with remaining milk mixture and cook over medium heat for 3 minutes or until mixture comes to a simmer and thickens. Continue to simmer for 2 minutes while whisking vigorously.
Remove saucepan from heat and scrape mixture into a large bowl. Add gelatine and whisk until thoroughly combined. Set aside at room temperature for five minutes to cool.
In a separate bowl, whip cream until almost stiff peaks. Add one third of the whipped cream to crème patissiere and fold to combine, then fold in remaining whipped cream. Set Basil Diplomat Cream aside in the fridge for at least 20 minutes to chill and until ready to serve.
To serve, transfer Basil Diplomat Cream intp a piping bag fitted with a large round piping tip and pipe a mound of basil diplomat cream into 6 serving bowls. Use a warm spoon to create a deep indentation in the centres. Pour 1-2 teaspoons of Basil Oil into the indentation and cover with a mound of Lemon Granita. Top with a quenelle of Strawberry Sorbet and garnish with micro basil. Add a Black Pepper Lace Tuile and serve immediately.