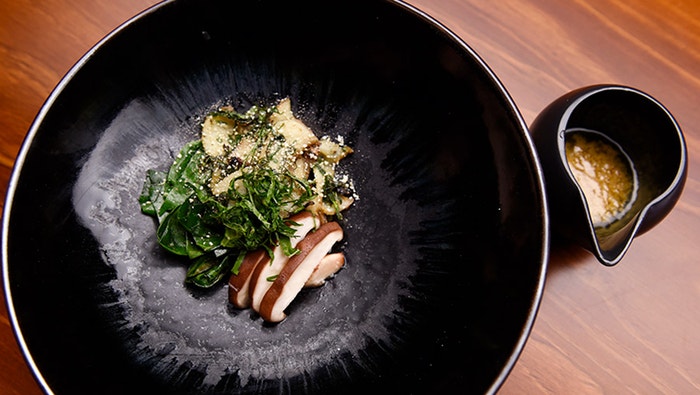 Steps
For the Spatchcock and Shiitake Sauce, prepare a shiitake stock by placing shiitake mushrooms and 2 cups water in a small saucepan. Place over medium heat and simmer very gently for approximately 30 minutes or until shiitake mushroom flavour has infused into the water. Set aside, keeping warm, until needed.
Remove the legs and wings from the spitchcock and chop roughly. Chop the rest of the spitchcock into small pieces. Heat a small frying pan over high heat, add 2 tablespoons of oil, then the spatchcock pieces. Stir occasionally or until the pieces are browned and sediment has appeared on the bottom of the pan, about 9-10 minutes.
Deglaze the pan with the vinegar and allow to reduce slightly whilst stirring and scraping the sediment off the bottom of the pan. Once reduced, add approximately 2/3 cup of the shiitake stock, along with the horseradish leaf, and continue to simmer until reduced by half.
Once reduced, strain the sauce through a fine sieve into a clean small saucepan and continue to reduce over medium heat until a viscous consistency, approximately 5 minutes. Once reduced, season with salt and pepper, to taste, and set aside, keeping warm, until ready to serve.
For the Pickled Shiitake and Horseradish Leaf, combine all ingredients along with ¼ cup of water, stir well and set aside to pickle for at least 15 minutes. Once pickled, drain and set aside until ready to serve.
For the Stir Fried Abalone, Horseradish Leaf and Chinese Broccoli, use a large kitchen spoon to remove the abalone from its shell. Clean and trim abalone. Slice into 1mm slices, as fine as possible, across the grain. Set the abalone slices aside in a medium bowl until needed.
Finely shred the horseradish leaf and toss together with abalone, oil and a generous amount of salt and pepper.
Heat a frying pan or wok over high heat. Once searing hot, add a little oil, the abalone and horseradish leaf and stir fry very briefly until abalone is just cooked, about 30 seconds. Transfer to a bowl and set aside, keeping warm, until ready to serve. Keep the pan on heat.
Add a little more oil to the hot pan, then the Chinese Broccoli pieces and briefly stir-fry until just wilted, about 1 minute. Remove from pan and set aside, keeping warm, until ready to serve.
To serve, divide Stir Fried Chinese Broccoli between 4 plates. Add equal amounts of the Stir Fried Abalone and Horseradish Leaf. Add three slices of drained Pickled Shiitake Mushroom and Horseradish Leaf on top of each dish. Serve with Spatchcock and Shiitake Sauce in a jug on the side.