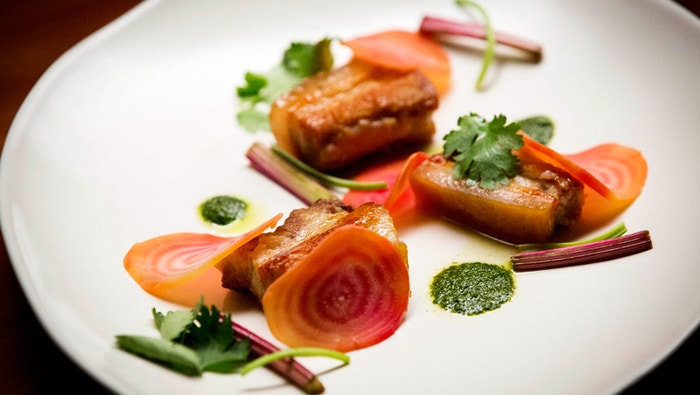 Steps
Brush pork belly slices with 1 tspn oil. Place a large frypan over high heat and sear each side until golden brown.
Transfer pork to a pressure cooker. Deglaze frypan with 500ml water, then transfer the water and pan juices to the pressure cooker. Add vanilla pod and seeds, lime juice and zest, miso, 20g of the sugar, salt and pepper to the pressure cooker. Cook for 20 minutes until pork is tender.
Once pork is tender, return it to the frypan along with 125ml of the cooking liquid, the remaining 125ml water and the remaining 30g of sugar and cook for 2-3 minutes until pork is rich golden colour and glaze is sticky.
Remove pork from the frypan and set aside, leaving the frypan cooking liquid behind. Take vanilla pod out of the pressure cooker and transfer to the frypan. Cook the pan liquid over a medium heat, stirring frequently, and reduce liquid by about half or until syrupy and dark caramel in colour. Set aside, keeping warm until needed.
For the Beetroot, bring a small saucepan of water to a boil and cook beetroot for 25 minutes or until soft. Remove from heat and place under running water to cool.
Once cool, peel skin then, using a mandolin, slice beetroot into 1mm slices. Drizzle with juice from lime and season. Set aside until needed.
Chop beetroot stems into 4cm lengths and place into a small bowl. In a medium sized bowl, add the vinegar, water, sugar, salt and pepper and mix gently until sugar dissolves. Add the beetroot stems to the pickling liquid and set aside until needed.
For the Coriander Salsa, place coriander leaves with lime juice and zest, salt and oil in the bowl of a small food processor. Blend until the mixture has emulsified. Set aside until needed.
To serve, cut pork into 12 slices and place 3 slices on each serving plates. Brush with a little of the warm glaze. Add beetroot slices, pickled beetroot stems and Coriander Salsa. Garnish with extra coriander stems and leaves and serve with warm glaze on the side.