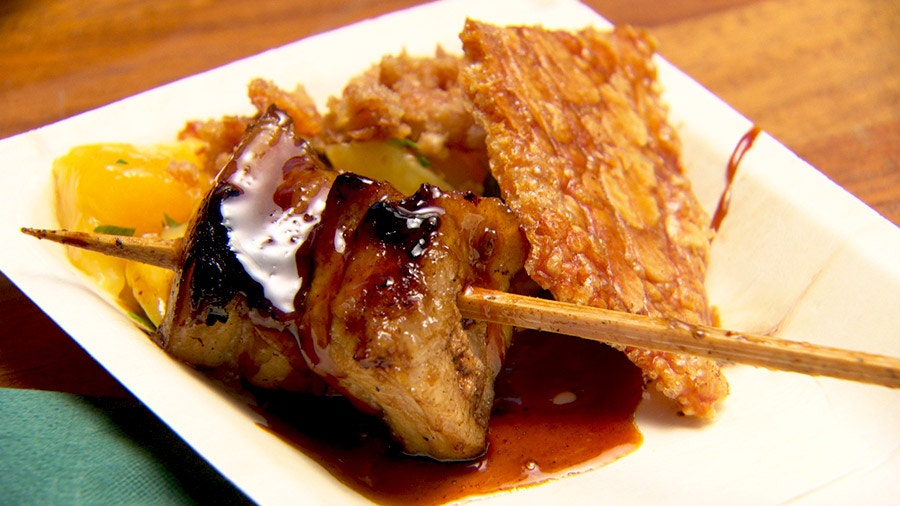 Steps
Preheat oven to 180°C.
For the Pork Belly, remove the skin and ribs from pork belly and set aside. Cut the trimmed pork belly into 2 pieces and set aside.
Place the cinnamon stick, coriander seeds, fennel seeds, clove and five spice into a small frypan and toast over a medium heat until fragrant, about 2-3 minutes. Remove from the heat and set aside.
Place a large saucepan on high heat and add 1 tablespoon of oil. Add the reserved pork ribs and cook, turning, until golden brown. Add onion, ginger and garlic and cook for 3-4 minutes. Add the reserved toasted spices and cook for a further minute.
Add the soy, hoisin, kecap manis, chicken stock and 400ml water. Bring to the boil then reduce heat and simmer for 10-15 minutes. Transfer to a pressure cooker. Add the pieces of pork belly and cook on high pressure for 30 minutes.
Release pressure then remove the pork belly from the pressure cooker and set aside on a chopping board. Strain the cooking liquid from the pressure cooker into a small saucepan and cook on high heat until reduced to a sticky sauce consistency. Remove the sauce from the heat and set aside until needed.
Place skewers into a shallow tray of water and set aside to soak. Heat a griddle pan over high heat.
Cut the pork belly into 2.5cm pieces. Place 2 pieces onto each soaked skewer and then grill for approximately 1 minute on each side.
Brush the pork skewers with some of the reserved sauce then remove from pan and set aside.
For the Mango Salsa, combine all the ingredients in a small bowl and mix gently to combine. Cover with cling film and set aside in the fridge.
For the Pork Crackling, line a tray with baking paper. Score the pork belly skin at 5mm intervals and season with generously with salt. Place the scored skin onto the lined tray. Top with a second sheet of baking paper then top with a second tray to weigh down. Place into the oven until crisp and crackled, about 50-55 minutes. Remove from the oven and break into shards.
To serve, Spoon some Mango Salsa onto the serving plate. Top with Pork Belly skewers and glaze with the remaining sauce. Top with some shards of Pork Crackling.