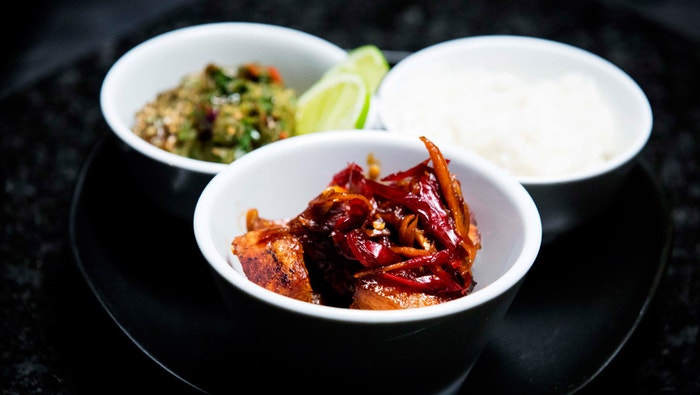 Steps
Preheat oven to 220C.
To make the Pork Belly, score skin in lines 1cm apart. Push skewers perpendicular to the scoring just below the skin to prevent meat from curling up. Place pork belly, skin side down, into pressure cooker and cover with water. Add salt and bring up to pressure, cook for 30 minutes.
Remove from pressure cooker and place, skin side up, onto a deep baking tray. Remove skewers and pour enough salted water from pressure cooker into the baking tray to cover the meat halfway up the sides of the pan. Pat skin dry and rub some salt and oil into skin. Place into oven and bake until skin is crackling, about 40 minutes. Remove from oven and set aside to rest.
To make the Chilli and Ginger Sauce, place all ingredients along with 125ml water in a small saucepan over medium heat and bring to the boil. Reduce heat and simmer until slightly reduced, about 7-8 minutes. Set aside until required.
To make the Coconut Rice, place all ingredients in a medium saucepan and bring to the boil, stirring occasionally. Reduce heat and simmer for a further 10 minutes. Remove from heat, cover and set aside.
To make the Laotian Grilled Eggplant Salad, heat rice bran oil in a frypan. Thinly slice two of the shallots and fry until golden, remove from oil and set aside on paper towel.
Meanwhile, heat a griddle pan over high heat. Use a fork to score holes in eggplant skins and place over griddle pan until skin is blackened and loose. Remove from griddle and scoop out eggplant flesh into a bowl. Set aside.
Add chillies, remaining shallots (skin on), and garlic cloves (skin on) to the griddle pan. Heat until soft, careful not to burn. Remove from heat and place vegetables into a food processor and blitz to a smooth paste. Add 1 tsp of rice bran oil if paste is too coarse. Add mixed herbs and blitz to combine. Set aside until required.
In a separate bowl, combine fish sauce, lime juice and sugar.
Add the reserved chilli paste to the reserved eggplant flesh and gently stir to coat. Add reserved fish sauce dressing and toss to coat. Finish with a sprinkle of fried shallots and set aside.
To finish the pork belly, place a frypan over medium heat. Portion pork belly and place into pan, cook until pork is browned on all sides. Add chilli and ginger sauce and coat pork, cooking until golden. Remove pork and set aside, leave sauce in pan and continue cooking until reduced and sticky, about 2-3 minutes.
To serve, place a portion of pork on plate and cover with chilli and ginger sauce. Spoon a serve of coconut rice and eggplant salad onto plate.