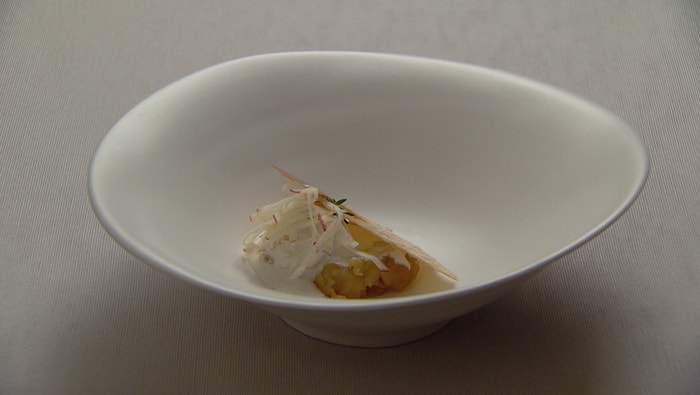 Steps
Pre chill ice cream machine. Preheat oven to 180C.
For the Cinnamon Ice Cream, place cream, milk and ground cinnamon in a medium saucepan. Set over low heat and bring to a simmer.
Meanwhile, place eggs, egg yolks and sugar in the bowl of an electric mixer fitted with a whisk attachment and whisk until pale and creamy.
While whisking, slowly add cream mixture and whisk until fully combined. Return mixture to the saucepan and cook over a medium heat, stirring continuously until mixture thickens and reaches 82C. Remove from heat and pour through a fine sieve into a bowl set over an ice bath and allow to cool.
Pour the cooled mixture into an ice cream machine and churn according to manufacturer's instructions. Set aside, in freezer to set, until serving.
For the Apple, place butter into a medium frypan and melt over low heat. Add apple and cinnamon and cook, stirring regularly until apples are golden and slightly tender, about 20 minutes.
Add brown sugar, lemon juice and brandy and cook for another 7-8 minutes, until apples are caramelised. Remove from heat and allow to cool.
Place 1½ tablespoons of apples into the cylinder of a stick blender and reserve remainder for serving. Blend to a smooth puree then pass through a fine sieve and set aside for the Apple Tuille.
For the Apple Tuille, place butter, sugar, honey and apple puree into a medium saucepan and melt over low heat. Remove from heat, cool slightly then add flour and whisk until well combined. Add egg white and whisk until a smooth batter.
Using a spatula, spread batter very thinly over a silicon mat. Set mat on a large baking tray and place in oven to bake until lightly golden, about 7-8 minutes. Remove from oven and set aside to cool. Break into shards.
To serve, place a spoonful of Apple into the middle of each plate and top with a scoop of Cinnamon Ice Cream. Add a shard of Apple Tuille and garnish with fresh apple slices and thyme leaves.