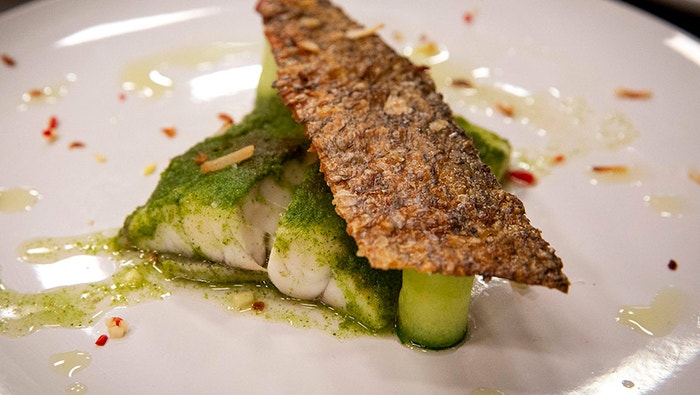 Steps
Preheat oven to 180C.
For the Pickled Cucumber, place all ingredients and 2 tablespoons water in a medium bowl and mix to combine. Set aside, in fridge, to pickle for at least 30 minutes. Drain liquid, reserving ginger and chilli for garnish and set aside until serving.
For the Coriander and Ginger Oil, place the oil into a small saucepan and heat to 60C. Add coriander leaves and ginger. Remove from heat and allow to infuse for 15-20 minutes. Using a stick blender, blend until combined then strain through a muslin lined sieve into a small pouring jug. Set aside until serving.
For the Crispy Skin, remove skin from fish fillet and lay onto a paper lined baking tray. Sprinkle generously with salt then cover with a sheet of baking paper and another baking tray. Place in the oven to cook until crisp and lightly golden, about 30-35 minutes. Remove from oven, remove top baking tray, and set aside to cool. Break into shards and set aside until serving.
For the Coriander and Ginger Fish, half fill a wok with water and bring to the boil.
Place coriander leaves, mint leaves, ginger, coconut flesh, coconut water and salt into a food processor and process to a paste.
Cut fish fillet into 4 portions. Cut banana leaves to make 4 pieces large enough to wrap fish. Place fish fillet in the centre of each piece. Season fish fillets with salt and top with paste. Wrap fish in banana leaf to form a parcel.
Place fish parcels in a bamboo steaming basket and place over simmering water. Steam until cooked through, about 8-10 minutes. Remove basket from wok and set aside until serving.
To serve, place a Coriander and Ginger Fish parcel in the centre of each serving plate. Add some Pickled Cucumbers, a shard of Crispy Skin and a drizzle of Coriander and Ginger Oil. Sprinkle with toasted coconut flakes, and reserved pickled ginger and chilli.