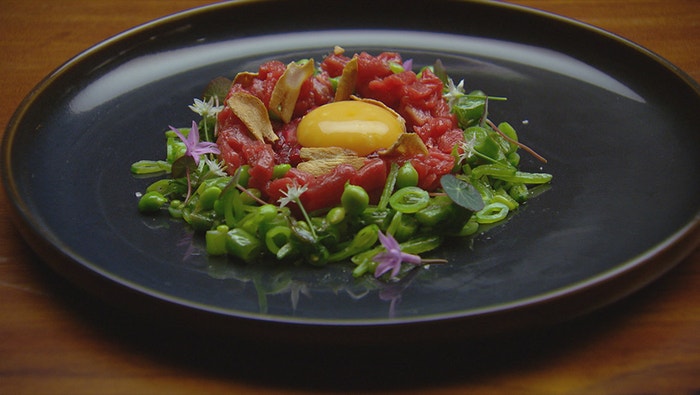 Steps
For the Beetroot Vinaigrette, place ingredients into a small saucepan and place over low heat. Simmer gently for 50-60 minutes until sauce reduces to about 2 tablespoons. Remove from the heat and set aside to cool.
For the Pickled Shimeji Mushrooms, place the vinegar, brown sugar and ¼ cup water into a small saucepan over a high heat. Stir until the sugar has dissolved and the mixture comes to the boil. Remove from the heat, add mushrooms and set aside for 30 minutes.
Once mixture has cooled, remove mushrooms and finely dice. Set aside.
For the Snow Pea, Bean and Sugar Snap Pea Salad, place a medium frypan over medium high heat. Add the grapeseed oil and when hot, add the beans and cook until the skin is blistered and caramelised. Remove from the heat and set aside to cool. Cut into 1cm pieces.
Finely slice the sugar snap and snow peas into 3mm pieces.
Toss beans and peas with remainder of ingredients and season to taste. Set aside.
For the Garlic Chips, place the grapeseed oil into a medium saucepan and heat to 180C.
Use a mandolin or sharp knife to shave the garlic into thin slices. Place into the hot oil and deep fry until golden and crisp. Remove from the oil and set aside to cool on paper towel.
For the Steak Tartare, bring a small saucepan of water to a simmer.
Blanch the peas in the simmering water for 1 minute. Remove from the water and place into a bowl of iced water to chill.
Season beef with the salt and pepper. Place ¼ of the beef into a bowl and mix in the cooled beetroot Vinaigrette and chopped mushrooms. Set aside in the fridge.
Add the blanched peas to the remaining ¾ portion of the diced beef and mix gently to combine. Set aside.
To serve, place an 8cm round mould into the centre of a serving plate. Add ¼ of the beef and beetroot mixture and press gently into the base and sides of the mould. Position a larger round mould around the beef mixture and spoon the pea mixture around the beef and beetroot mixture. Remove the larger mould. Repeat with the remaining mixture onto remaining 3 serving plates. Place an egg yolk on top of the beef and garnish with the garlic chips, flowers and leaves.