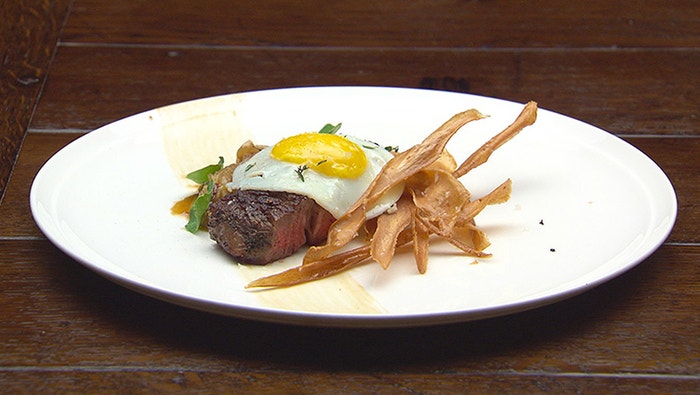 Steps
Turn on deep fryer to 180C.
For the Onion Gravy, place butter, onions and star anise into a medium frypan and place over a medium heat. Cook, stirring, until the onion is softened and caramelised, about 4-5 minutes. Add chicken stock and cook until reduced by half, about 5-6 minutes. Add thyme and simmer until sauce is reduced and thickened to 100ml.
Remove from the heat and discard thyme sprigs and star anise. Strain, reserving the onions in a bowl for later use. Season the stained sauce with salt and pepper and set aside in a bowl.
For the Chips, use a vegetable peeler to shave long strips from parsnip. Working in batches, add the parsnip strips to the deep fryer and fry until golden brown, about 2-3 minutes. Remove from the oil and drain on paper towel. Season with salt and set aside until needed.
For the Steak, heat a large oven - proof frying pan over high heat. Brush steaks with some oil on both sides then season with salt and pepper. Add to the pan and cook for 2-3 minutes on each side, or cook to your liking. Remove the steaks from the pan and set aside to rest.
Meanwhile, while the steak is resting, heat a large frypan over medium heat. Add the oil and crack the eggs into the pan. Fry until cooked through, or to your liking, then remove from the heat and season with salt. Using a 7cm round cutter, trim the eggs into neat rounds.
To serve, brush a line of the Onion Gravy over each plate. Add a steak to each plate, add some of the reserved cooked onion and top with an Egg. Garnish with thyme and nasturtium leaves.