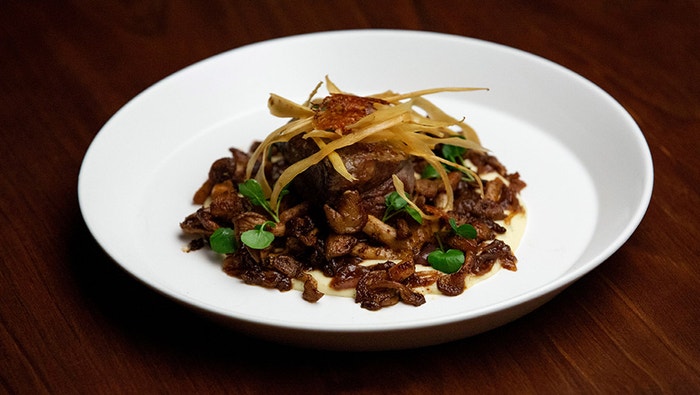 Steps
For the Miso Tuille, place ingredients along with 205ml water into a large jug and whisk together until smooth.
Place a small non-stick frypan over low-medium heat. Pour enough tuille mixture in to thinly cover base of pan and cook until set, about 8 minutes. Remove the tuille and set aside on paper towel. Repeat with remaining mixture and draining excess oil from the pan in between cooking each tuille.
For the Parsnip Puree, place ingredients into a medium saucepan and place over low heat. Bring to a simmer and cook until parsnip is tender, about 20 minutes.
Discard the herbs and transfer the parsnip to a food processor. Add enough cooking liquid and process until smooth. Pass through a fine sieve and season with salt to taste. Set aside, covered, in a warm place.
For the Herb and Miso Butter, place all ingredients into a small food processer and process until smooth and combined. Set aside.
For the Caramelised Shallots, place a medium frypan over medium heat. Add the butter and oil and when melted, add the shallots cook for 3-4 minutes, stirring occasionally, until soft.
Add balsamic, sugar and salt cook until thick and caramelised, about 5 minutes. Remove from the heat and set aside.
For the Parsnip Chips, heat oil in a medium saucepan to 170C.
Place parsnip strips into the hot oil and cook until golden and crisp, about 1-2 minutes. Remove from the oil and place onto paper towel. Season with salt while still hot. Set aside.
For the Steak, heat a large frypan over high heat.
Tie each steak with string to hold in shape. Drizzle with olive oil and season with salt.
Cook steak in the smoking hot pan for 2 minutes on each side then sear the outside of steak turning continuously for 1 minute, for rare or longer until cooked to your liking.
Remove steak and place onto a board. Brush liberally with the Herb and Miso butter and rest. Remove string before serving.
For the Grilled Mushrooms, place the Herb and Miso Butter and oil into a medium frypan over medium high heat. Once melted, add the mushrooms and cook, stirring, until golden brown, about 3-4 minutes.
To serve, spread the puree in a circle on each plate. Top with a portion of steak. Place the caramelised shallots and mushrooms around the outside and top with parsnip crisps and tuille. Garnish with watercress.