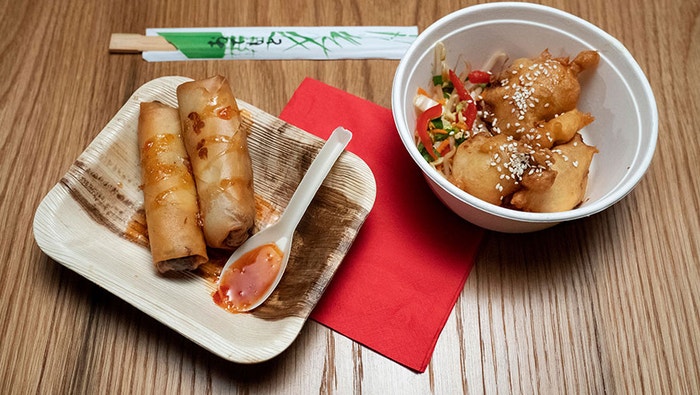 Steps
Preheat oil in deep fryer to 180C.
For the Spring Rolls, place the sesame oil and 1 tablespoon vegetable oil into a large frypan over medium heat. Add the chicken mince, ginger, garlic and pepper. Cook, stirring to break up any lumps, until chicken has cooked through. Remove from the pan.
Add the wombok, carrot, spring onion and softened rice vermicelli. Season with salt and mix until evenly combined. Place into the fridge to cool.
Place the cornflour into a small bowl and mix in enough water to form a thin paste. Set aside.
Place approximately 2 tablespoons of filling toward one corner of each spring roll wrapper. Roll the corner of the wrapper over the filling towards the centre of the wrapper. Fold the sides of the wrapper in and continue to roll into a firm cylinder.
Brush a little cornflour paste onto corner of the wrapper then press together seal. Set aside on a tray.
Fry the spring rolls, in batches, until golden brown and the filling is hot, about 4 minutes. Remove from the oil and set aside on paper towel.
For the Chilli Sauce, combine ingredients together in a small serving bowl.
Serve spring rolls on a large plate with the sauce on the side.