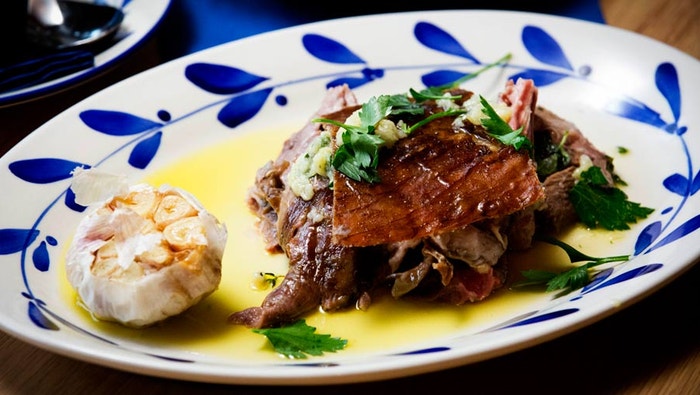 Steps
Heat oven to 140C. If using a spit, heat to high according to manufacturer's instructions.
For the Lemon Baste, combine all ingredients, except for rosemary in a medium bowl. Add reserved lemon skins and set aside.
For the Lamb, rub the lamb shoulder all over with the olive oil and salt, ensuring it is well coated. Place the lamb into a large baking dish or thread on to spit. Use the rosemary sprigs as a basting brush to generously coat lamb in Lemon Baste.
Place in the preheated oven or place the spit over the coals and roast for 4 hours or until very tender and a golden crust has formed. Use the rosemary brush to generously baste with the Lemon Baste every 20 minutes. Remove from oven or spit and set aside in a warm place, covered, to rest.
Meanwhile, make the Dressing. Wrap garlic cloves in foil and bake on bottom shelf of the oven for 60 minutes until soft. Set aside until cool enough to handle, then squeeze garlic cloves out of skin and place into a small bowl.
Add olive oil and salt flakes and mash well to combine. Whisk in remaining ingredients until well combined and set aside until needed.
To serve, cut lamb into large pieces and place on serving plate. Drizzle with dressing and garnish with parsley leaves.