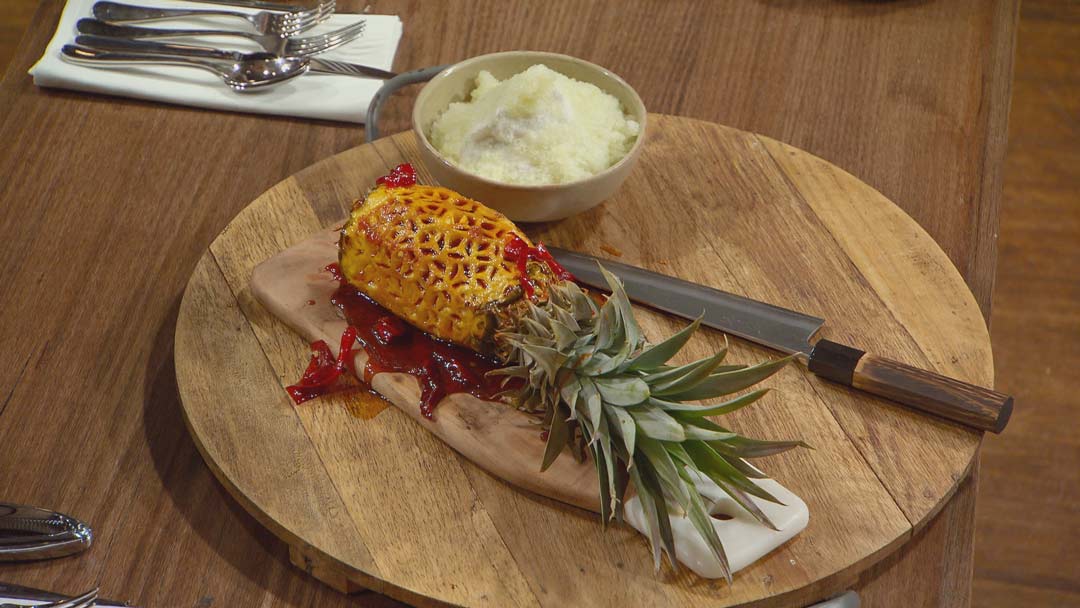 Steps
Set an ice cream machine on to chill.
For the Lime Granita, finely grate the zest of 3 limes. Juice all the limes.
In a medium bowl, combine the lime zest, juice and shio koji and mix. Transfer to a deep baking tray so mixture is at least 1cm deep. Freeze until set.
For the Coconut Kaffir Ice Cream, combine sugar, water and kaffir lime leaves in a small saucepan and warm over low heat to dissolve the sugar. Transfer syrup to a medium bowl and place over a larger bowl of iced water to chill.
Remove and discard the kaffir leaves. Add coconut cream to the chilled syrup. Season with salt and mix well. Transfer mixture to the ice cream machine and churn to soft serve consistency. Transfer to the freezer until firmer set.
For the Chilli Caramel Pineapple, sprinkle caster sugar evenly into a large stainless-steel frypan over high heat. Add the chilli and cook to a dark golden colour. Gradually add the water and stir through to loosen. When combined, remove pan from the heat and set aside.
Skewer the pineapple through a 1m long dowel so pineapple is in the centre of the dowel. Fit each end of the dowel into the attachment hub of two stand mixers.
Place a hibachi of hot coals underneath the pineapple so the pineapple is approximately 15cm above. Turn one stand mixer onto low speed so the pineapple is slowly rotating over the heat.
As it cooks, brush the chilli caramel over the pineapple and cook for 30-35 minutes, continuing to glaze every 5-10 minutes or until the outside is caramelised and pineapple is tender. Remove pineapple from over the coals and remove pineapple from the dowel.
To serve, use a fork to scrape the granita into small ice crystals.
Place pineapple onto a serving board and brush extra caramel over. Use a large knife to shave or thinly slice the pineapple.
Place a generous scoop of ice cream into a serving bowl. Spoon a generous amount of granita over the ice cream. Serve alongside the pineapple.