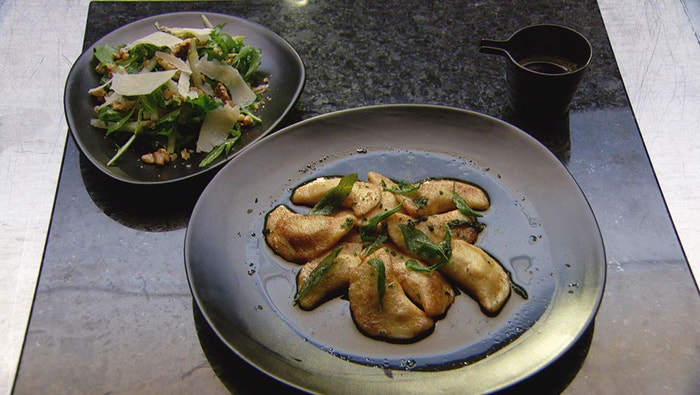 Steps
Place a medium saucepan of salted water over high heat and bring to the boil.
For the Gnocchi, add the potatoes to the saucepan of boiling water. Cover and cook until tender, about 15-20 minutes. Once cooked, drain potatoes. Sit the colander of potatoes on top of the pot they were cooked in and cover with the lid. Allow potatoes to steam for 10 minutes.
Meanwhile, for the Filling, place olive oil, garlic and spinach in a medium frypan over medium heat and sauté until spinach has wilted. Remove from the pan, squeeze out to remove excess moisture, and finely chop. In a separate bowl, combine ricotta, parmesan, mozzarella, egg, salt and pepper. Add the sautéed spinach to the cheese mixture and mix well to combine. Adjust seasoning to taste with salt and pepper.
Pass the steamed potatoes through a potato ricer. Place 150g of the flour on a clean work surface and make a well in the centre. Add the soft potato, egg and a pinch of salt to the well. Bring all of the ingredients together to form a soft dough, adding a little more flour as necessary, until dough the dough is smooth and no longer sticky. Divide the dough into 4 portions. Roll out dough into 3mm thick sheets, then use a 6mm cookie cutter to cut 28 discs out of the dough. Add half a teaspoon of filling to the centre of each disc, fold over and pinch the edges together to seal. Set filled gnocchi on a tray lined with baking paper.
Place a large pot of salted water over high heat and bring to the boil in preparation for cooking the Gnocchi.
For the Crispy Sage, place vegetable oil into a medium saucepan and bring to 180C. Add sage leaves in batches, and cook until crispy, about 10 seconds. Remove and place on paper towel to drain.
For the Salad, in a medium bowl combine olive oil, lemon juice and a good pinch of salt and stir to combine. Add the rocket and pear to the bowl and toss gently to coat. Sprinkle walnuts and parmesan over the top.
For the Burnt Butter Sauce, Place butter into a medium frypan over low heat and swirl until butter is a nutty brown, about 3-4 minutes. Remove from the heat.
Cook the gnocchi in batches until they float to the top, about 2-3 minutes. Drain the gnocchi then add to the pan of burnt butter sauce and gently toss to coat.
To serve, arrange stuffed Gnocchi onto serving plate and pour 3 tablespoons of Burnt Butter Sauce over the gnocchi. Place some whole Crispy Sage leaves on the dish and crumble remaining crispy sage over the plate. Season with salt and cracked pepper. Serve Rocket, Pear and Walnut Salad in a dish on the side. Serve remaining Burnt Butter Sauce in a jug on the side.