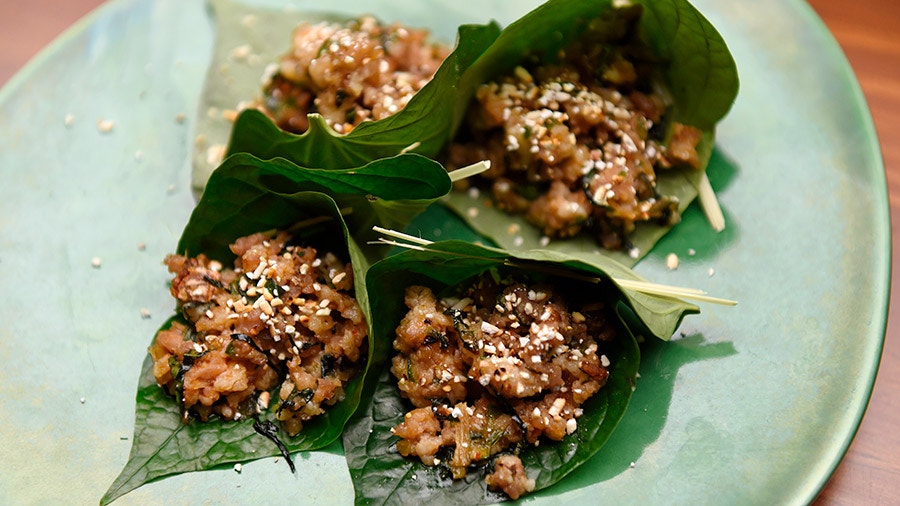 Steps
For the Crispy Roasted Rice, place a small saucepan over medium heat. Add the rice and cook, stirring regularly, until the rice is toasted and evenly browned. Remove from the heat and allow to cool slightly. Transfer to a mortar and pestle and grind to a coarse powder. Set aside until needed.
For the Curry Paste, combine the tamarind pulp and 1/3 cup hot water in a small bowl and set aside until the tamarind pulp has softened, about 15 minutes. Pass the softened tamarind through a fine sieve into a bowl. Set aside.
Combine the palm sugar and fish sauce in a small saucepan and stir over low heat until the sugar has dissolved. Set the palm sugar syrup aside to cool until needed.
Place the coriander seeds, galangal and grated coconut into a small frypan and toast until the coconut is golden and spices become aromatic. Remove the mixture from the pan and transfer to a mortar and pestle. Add the lemongrass, shallot, kaffir lime zest, pulp and leaf and pound together to a coarse paste.
Place a wok over medium heat. Add a little rice bran oil and heat. Add the paste and stir-fry until the spices are fragrant and the curry paste is toasted, about 3 minutes. Add the sriracha and mix well until combined.
Remove ¼ of the cooked curry paste from wok and set aside for later use.
Add the reserved tamarind purée to the wok of remaining curry paste and continue to cook until slightly reduced, about 2 minutes. Remove the cooked tamarind-curry paste from the wok and set aside.
For the Stir Fried Pork, add the pieces of pork belly to a small food processor and process to a coarse mince then set aside.
Heat the wok over high heat and add the rice bran oil. Add reserved ¼ of the curry paste and stir-fry until fragrant, about 1 minute. Add the pork mince to the wok and stir-fry over high heat until the pork is just cooked through.
Remove from the heat and stir in the reserved cooked tamarind-curry paste mixture. Add the green chilli, Thai basil leaves and reserved palm sugar and fish sauce syrup. Adjust the seasoning if required, it should be a balance of rich, sweet, salty, spicy and sour.
To serve, wrap the betel leaves into a cup shape and secure by skewering a splinter of lemongrass through the betel leaf. Fill the betel leaf cups with some Stir Fried Pork and garnish with a sprinkle of Roasted Rice. Arrange the filled betel leaves on a serving platter.