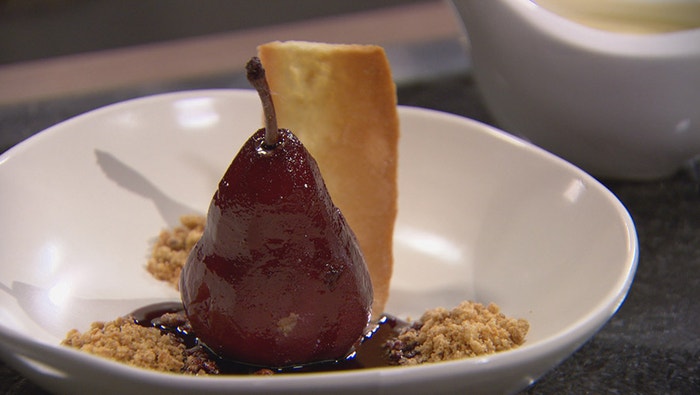 Steps
Preheat oven to 180C.
To make the Poached Pears, combine shiraz,150g of the sugar, star anise, cinnamon, vanilla and cloves into a small saucepan and bring to the boil.
Once boiling, reduce heat and add pears to the poaching liquid. Add a little water if required to ensure pears are totally covered in liquid. Poach until soft yet still in tact, about 40 minutes.
Remove pears from saucepan and set aside, reserving poaching liquid on the stove. Add remaining sugar to the poaching liquid and bring to the boil until reduced by 1/3, about 10-12 minutes. Strain mixture through muslin cloth and transfer to a jug, set aside.
To make the Crème Anglaise, whisk egg yolks and sugar in a bowl until pale and creamy.
Meanwhile, combine remaining ingredients in a small saucepan and heat to just below boiling point.
Remove warm milk mixture from heat and strain into a clean saucepan. Add 1/3 of the strained milk mixture to the bowl of whisked yolks and sugar and whisk to combine.
Pour yolk milk mixture back into saucepan of remaining warm milk mixture over low heat, stirring continuously until mixture coats the back of a spoon, about 6-7 minutes. Remove from heat, and place over an ice bath to cool. Transfer to a serving jug and set aside in fridge.
To make the Walnut Crumb, line a baking tray with baking paper. Place all ingredients into a food processor and blitz to a fine crumb. Press crumbed mixture onto lined tray and bake until golden brown, about 10 minutes. Remove from oven and allow to cool. Once cooled, break up into a crumb and set aside.
To make the Tuile, line a baking tray with baking paper. Whisk egg whites and sugar together in a bowl until sugar has dissolved. Add flour, butter and vanilla and mix well. Spoon tablespoon portions of mixture onto the lined baking tray and spread to 15 x 5cm rectangles. Place into the oven and bake until golden, about 10 minutes.
Remove from oven and allow to cool slightly. Whilst still warm, gently press over the side of a mug to create a curve. Once set, set aside.
To serve, stuff the pear with some of the walnut crumb. Place tuile under pear so that it curves around. Pour over some of the reduction and finish with some larger pieces of walnut crumb. Serve anglaise on the side.