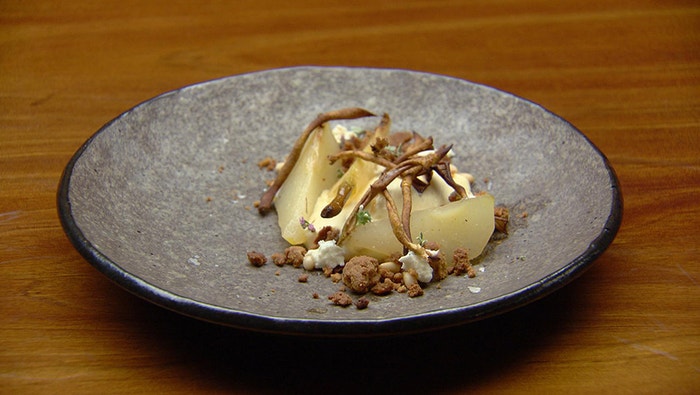 Steps
Preheat oven to 180C.
For the Spiced Poached Pears, place sugar, cinnamon, star anise, cloves, ginger, lemon juice, salt and 2 cups of water in a medium saucepan and set over medium-high heat until starting to boil.
Cut the pears lengthways in 1/8s then place into the syrup, reducing the heat to low. Place a cartouche (paper lid) over the pears and simmer for approximately 30 minutes or until just soft. Remove from the heat and set aside, both pears and poaching liquid, until serving.
For the Goats Cheese Mousse, place milk and 60ml cream in a medium saucepan and bring to a boil. Remove from heat.
Meanwhile, combine egg yolks and sugar in the bowl of an electric mixer and whisk until pale and thick. Add the hot milk mixture in a thin steady stream while whisking continuously. Return to the saucepan and place over low heat. Cook, stirring, until thickened. Remove from heat, add goats cheese and gelatine and stir to combine. Set aside over an ice bath to cool.
Meanwhile, whisk remaining cream to soft peaks then gently fold through cooled mixture. Transfer to a deep tray and place in fridge until set and ready to serve.
For the Roasted Pear Skins, place the skins onto a wire rack sitting over a baking tray. Place in oven to bake until lightly golden, about 10 minutes. Remove from oven and set aside until serving.
For the Gingernut Crumble, place the sugar, butter, treacle, egg yolk, bi-carb, ginger, cinnamon and star anise into a medium bowl. Mix with a wooden spoon until well combined. Add the flour and mix until just combined. Crumble the mixture onto a baking tray and place into the oven, stirring occasionally, until golden brown, about15-20 minutes. Remove from oven.
Meanwhile, place the pine nuts into a small fry pan and toast over a medium heat until golden brown. Add to the crumble and set aside until ready to serve.
To serve, place a scoop of Goats Cheese Mousse and some Spiced Poached Pear on the serving plates. Sprinkle with Gingernut Crumble and top with Roasted Pear Skins. Garnish with small pieces of goats cheese, thyme leaves and flowers and a drizzle of reserved poaching liquid.