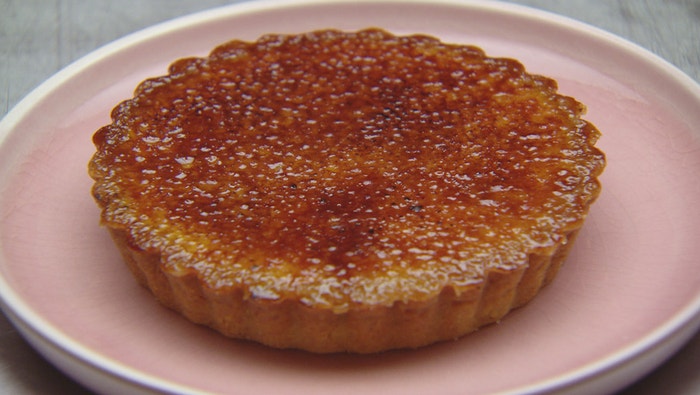 Steps
For Pistachio Pâte Sablée Tart Shells, combine plain flour, caster sugar, pistachio meal and table salt in a food processor and pulse to roughly combine. Add the butter and orange zest and pulse until sandy. Add the eggs and process until the mixture begins to come together.
Transfer pastry to a clean work surface and bring together. Pat into a thick disk, cover in plastic wrap and refrigerate for 15-30 minutes for easier handling but it is not necessary for this pastry.
Preheat the oven to 160ºC fan forced. Grease 4 individual loose bottom tart tins.
For Spiced Orange Brûlée Custard, combine eggs, caster sugar and vanilla in a medium bowl and whisk to combine.
In a large heatproof bowl, combine cream, cardamom and cinnamon in a large heatproof bowl and stir. Microwave on the highest setting for 3-4 minutes.
Strain the hot cream mixture through a fine sieve to remove spices. Add the cream mixture to egg mixture whilst whisking. Add orange zest and vanilla and whisk through. Microwave for 6-8 minutes in 2 minute bursts until very thick but be careful when to make the call to stop - you don't want the mix to curdle. Chill completely until set.
For Pistachio Pâte Sablée Tart Shells, dust work surface and chilled dough with extra flour. Use a rolling pin to roll pastry to 3-4mm thickness. Drape pastry into tart tins, taking care to press into the corner of the tin. Pinch or cut away the excess pastry. Do not worry about cracks or tears. Patch them up and they will bake away.
Dock the base with a fork. Chill for 10 minutes in the freezer if time allows. Bake for about 10-12 minutes or until the pastry is evenly golden. Carefully remove tart shells from the tins and transfer to a wire rack. Cool completely at room temperature.
To assemble, fill each tart shell with custard and use a palette knife to smooth the surface so it sits flat against the rim of the tart shell.
Generously sprinkle custard with raw sugar and use a blowtorch to caramelise the sugar until most of the surface is golden and some parts burnt. This will impart a hint of bitterness to offset the richness and sweetness. Serve immediately.
Note - If custard splits, immediately transfer to a blender or use a stick blender and process on the highest setting to cool and re-emulsify. This works very well unless you have positively murdered it!