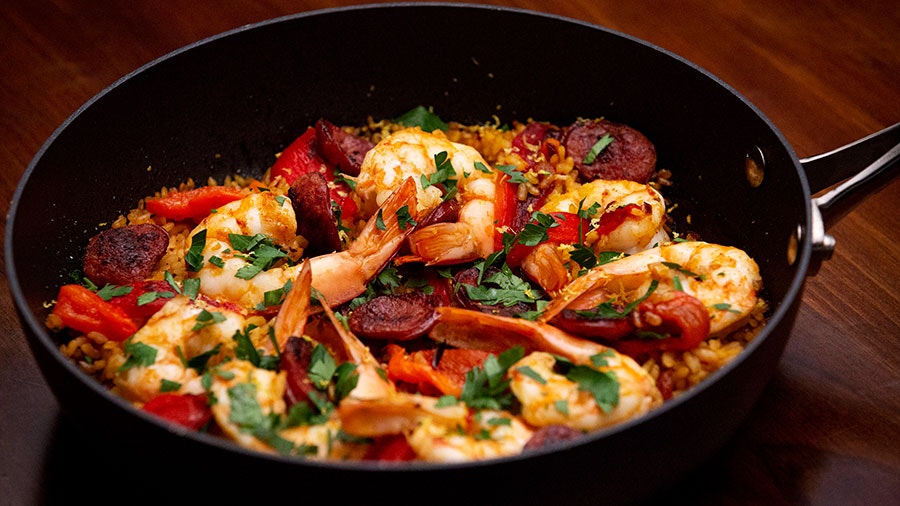 Steps
Place chicken stock and saffron in a medium saucepan and set over high heat. Bring to a boil then reduce heat and allow to gently simmer.
Cut capsicum into quarters, remove seeds and place on a baking tray. Place under a grill and grill until skin is blackened, about 10 minutes. Remove from grill and place capsicums into a paper bag, seal and allow to steam for 5-10 minutes. Remove and discard skins and slice capsicum thinly. Set aside.
Place 1 tablespoon olive oil, onion, celery, carrot, chorizo and prawn heads into a large saute pan. Set over high heat and sauté until vegetables are softened and the chorizo is crispy, about 15 minutes. Remove and discard prawn heads.
Add rice to pan and sauté for a few minutes until all the rice is coated.
Slowly add ¾ of the hot stock to saucepan, while stirring through. Season, place lid on, reduce heat and let simmer until stock has been mostly absorbed, about 15 minutes.
Add remaining stock to saucepan without stirring and cook, uncovered, until the rice forms a crust on the base of the pan, about another 5 minutes.
Place prawns, remaining 1 tablespoon oil, garlic, smoked paprika and salt in a small bowl and stir until combined. Place prawns into pan on top of rice. Cover pan and continue to cook until prawns are just cooked, about 4-5 minutes.
Place roasted capsicum around prawns. Sprinkle with parsley and lemon zest and serve.