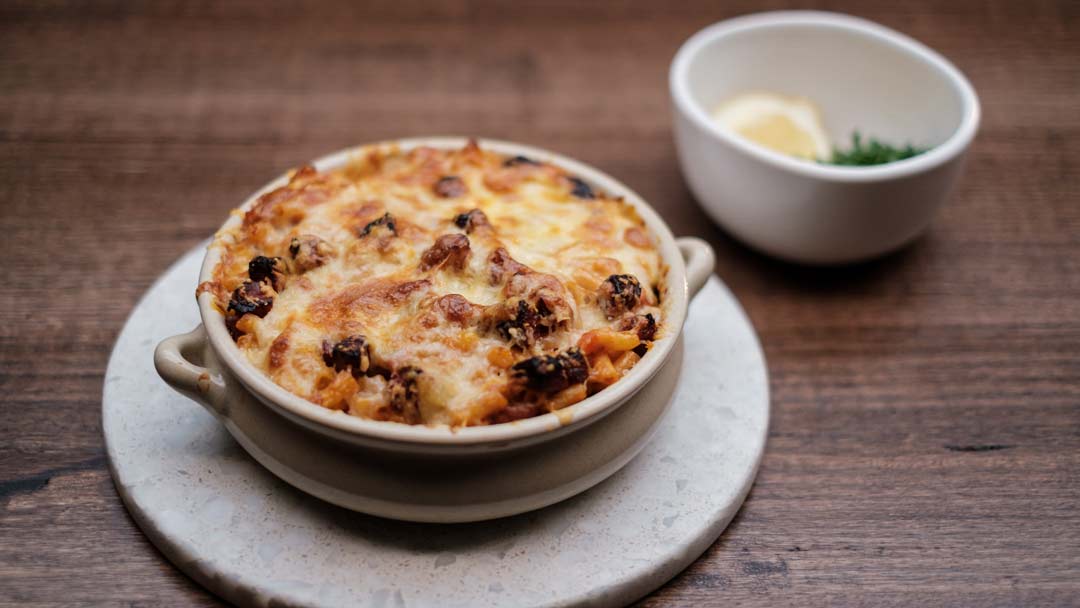 Steps
Preheat oven to 180C fan forced. Bring a saucepan of salted water to the boil.
Heat a medium frypan over medium high heat. Add the chorizo and cook until golden and the fat has rendered out, about 6 minutes. Remove chorizo from the pan and set aside.
Add the garlic and onions to the pan and stir for a few minutes until just starting to soften. Add the capsicum and cook, stirring until golden brown, approximately 5-7 minutes. Remove from the heat and set aside.
Meanwhile, cook the macaroni in the boiling water for 1 minute less than the package directions. Drain well then transfer to a bowl. Add 30g butter and toss macaroni to coat in the butter.
Meanwhile, place remaining 50g butter into a small saucepan over low heat and allow to melt. Add the flour and whisk constantly for 1-2 minutes. Gradually add the milk, whisking continuously until thickened.
Add the tomato, paprika, cumin, saffron and whisk until combined. Add 2 tablespoons capsicum mixture and a few pieces chorizo. Mix and season to taste. Remove from the heat.
Combine sauce and macaroni until evenly mixed. Transfer half to a medium sized baking dish.
Scatter with half of the remaining capsicum mixture then half of the cheeses and chorizo. Repeat process with remaining ingredients.
Cook in the oven until cheese has melted then change oven setting to 230C grill and cook until cheese is golden, about 2-3 minutes.
To serve, sprinkle with parsley and finish with a squeeze of lemon juice.