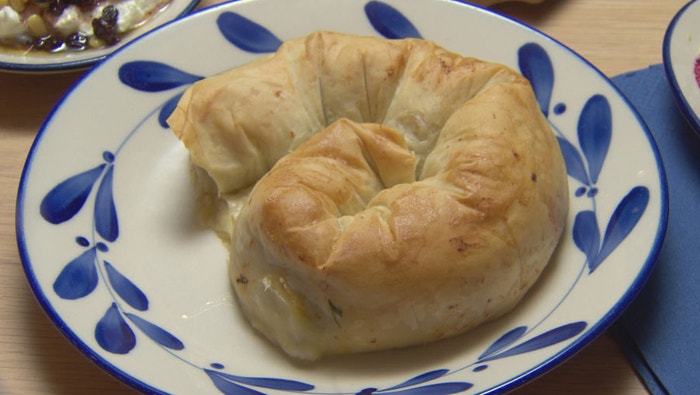 Steps
Preheat oven to 190C.
To prepare the Hung Yoghurt, line a large sieve with muslin cloth and place over a large bowl. Place yoghurt into the sieve and allow to drain for 2 hours in fridge.
Meanwhile, combine currants, vinegar and sugar in a small saucepan until sugar has dissolved and liquid has reduced, about 10 minutes. Set aside to cool until needed.
To prepare the Spanakopita, first heat a large frypan over high heat. Add the extra virgin olive oil, leeks, onions, thyme and oregano and sauté for 10 minutes, until vegetables are soft and translucent. Remove from heat, discard herb stems and allow mix to cool.
Meanwhile, blanch baby spinach for 20 seconds in a large pot of boiling water, then refresh in iced water.
Trim inner stalk from kale and blanch as for baby spinach. Drain greens, dry well with kitchen paper then chop roughly.
Combine eggs and feta in a large bowl, using a wooden spoon to break up feta. Mix to combine well. Add ricotta, lemon zest, finely grated ½ nutmeg, finely chopped dill, cooled leek and onion mixture, the chopped spinach and kale. Mix thoroughly to combine and season to taste. Set aside until needed.
To assemble the Spanakopita, lay a sheet of filo pastry onto clean work surface and brush with a little clarified butter. Repeat with another three layers, laying each sheet on top of the last.
Place 1 cup filling along the long side of pastry, 2cm in from the edge. Roll up pastry around filling to form a log and brush the outside with clarified butter. Take one end of the log and turn inwards then continue to turn to form a scroll. Transfer to a baking tray lined with baking paper and bake for 25-30 minutes until golden brown and crisp.
To serve, place Spanakopita onto a large serving plate. Remove Hung Yoghurt from sieve and transfer to a bowl, stir gently to bring the yoghurt together. Place a heaped spoon of yoghurt into a large ramekin and top with the currant mixture and sprinkle with toasted pine nuts. Drizzle with extra virgin olive oil.