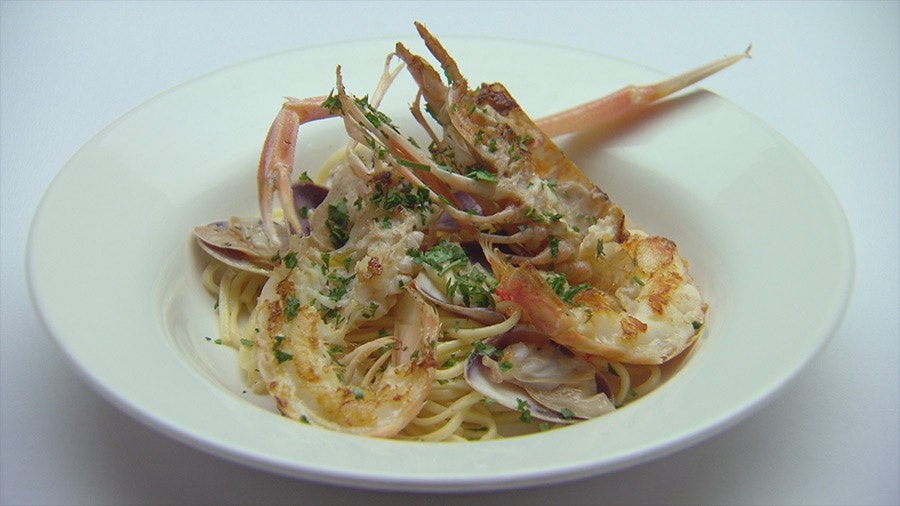 Steps
Bring a large saucepan of salted water to the boil. Preheat a grill pan over medium heat.
For the Spaghettie Dough, place the ingredients into the bowl of a food processor and pulse to a crumb consistency.
Transfer to a lightly floured bench and knead for 5 minutes until soft and smooth.
Divide the dough into two portions. Pass each portion through a pasta roller set on the thickest setting. Fold in half and pass through roller twice more then pass through each setting until the second thinnest setting. Cut the dough into 20cm lengths then pass through the spaghetti attachment.
Dust the spaghetti with flour and set aside on the bench until ready to cook.
For the Vongole, heat a large non-stick frypan with the olive oil over high heat. Once hot, add pipis and cover with a lid until the pipis start to open.
Once pipis have started opening, remove the lid. Add the chardonnay, chilli and lemon zest and stir until the liquid has reduced by half. Add the garlic and stir through.
Meanwhile, cook the spaghetti in the boiling water until al dente. Drain well. Add to the frypan of vongole along with the parsley and toss gently to combine. Remove from the heat.
Season with salt and pepper and a drizzle of olive oil.
To cook the scampi, season the cut side of the scampi with salt and drizzle with olive oil. Place onto the grill, cut side down and cook for 1 minute the turn over and cook for a further minute. Remove from the heat.
To serve, divide the Spaghetti Vongole between serving bowls. Top each plate with two scampi halves and finish with a drizzle of olive oil and finely chopped parsley.