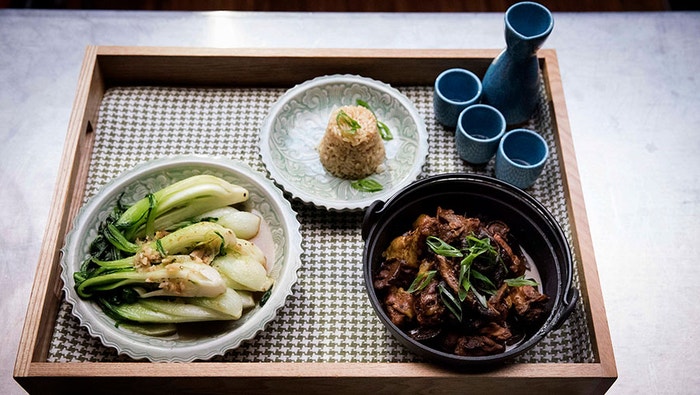 Steps
For the Chicken and Mushrooms, soak the whole and sliced dried shiitake mushrooms in hot water for at least 20 minutes. In a separate bowl, soak the dried Porcini Mushrooms in 1/2 cup of hot water for at least 20 minutes.
Once the shiitake mushrooms have softened, drain and place back into the bowl. Add rose wine, sugar, light soy and 2 tablespoons of the mushroom soy. Stir to coat then set aside to marinate until needed.
Place ginger into a mortar and pestle and pound to extract the juice. Place into muslin and squeeze juice into a clean bowl.
Heat the oil in a wok over high heat. Add the chicken pieces, in 2 batches, and cook for 5-6 minutes until golden. Reduce heat to medium and add marinated shiitake mushrooms and 1 cup water, ginger juice, and remaining mushroom soy and simmer until the chicken has softened, about 10 minutes.
Add the soaked porcini mushrooms along with the porcini water and cook until the porcinis are soft, about 5 minutes. Add fresh shiitake mushrooms, pepper and chicken powder and cook until the fresh shiitakes are just softened, about 5 minutes.
For the Garlic Rice, rinse rice with cold water until the water runs clear. Bruise the pandan leaves slightly using the back of a knife.
Heat up a medium saucepan over a medium heat and add the oil. Add garlic and shallots and stir until fragrant. Add the rice and stir fry until the rice is translucent, about 3-4 minutes. Add 1½ cups water and bring to the boil. Add pandan leaves and salt. Reduce heat and continue to cook until the water has almost completely evaporated, about 7 minutes.
Remove from the heat, cover with a lid and set aside to rest for 20 minutes.
For the Stir Fried Baby Bok Choy, heat oil in a wok over high heat. Add chopped garlic and shallots and stir fry until fragrant. Add bok choy and cook until vibrant green and crisp. Add the chicken powder and stir to coat. Remove from the heat.
To serve, place some pieces of the chicken onto one side of each serving plate. Top with some of the mushrooms and spoon some of the juices over the top. Mould some of the Garlic Rice into a small ramekin to shape and turn out onto the plate. Add some pieces of the Stir Fried Baby Bok Choy. Finish the rice and the chicken with some slices of spring onion.