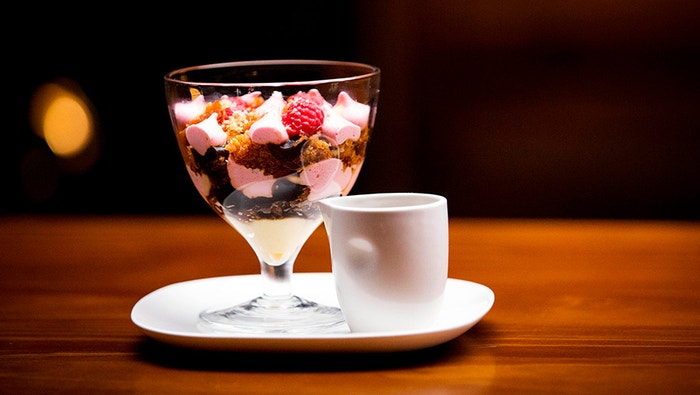 Steps
Preheat oven to 180C.
For the Toasted Coconut Sponge, place eggs and sugar in a mixer fitted with the whisk attachment, whisk on high speed until light and fluffy about 6-8 minutes.
Meanwhile, in a dry frying pan, toast the coconut over a low-medium heat, stirring regularly until golden brown. Cool slightly.
With the mixer running, pour in the melted butter and whisk until well incorporated.
In a separate bowl, whisk the flour, salt and toasted coconut to aerate. Gently fold the egg mixture into the flour. Pour into a lined 18cm x 28cm baking tray and bake or until a skewer comes out clean when inserted into the cake, about 15-20 minutes. Remove from oven and set aside still in baking tray.
For the Coffee Jelly, place all ingredients into a small saucepan along with 50ml water and bring to the boil, whisking thoroughly to ensure all granules are fully dissolved. Pour into a small shallow tray and place in fridge to set.
For the Crème Patissiere, place flour, egg yolks and sugar in a clean bowl and mix until well combined. Heat cream and 1 tablespoon rum in a small saucepan until nearly boiling. While whisking continuously, slowly pour hot cream into egg mixture.
Return mixture to saucepan and cook over a low heat, stirring, until thickened. Remove from heat and stir in remaining rum. Transfer to a piping bag and refrigerate.
For the Raspberry Marshmallow, place raspberries in a small saucepan, set over low heat and cook gently until they begin to break down, about 5 minutes. Strain through a fine sieve into a clean saucepan and return to heat. Add caster sugar and glucose and stir until boiling. Remove from heat.
Transfer hot raspberry mixture to the bowl of a mixer fitted with whisk attachment. Squeeze out excess water from gelatine and add gelatine to the bowl. Whisk on high to melt and combine gelatine. Continue whisking until light and fluffy, about 8-10 minutes. Transfer marshmallow to a piping bag and set aside.
For the Rum Syrup, heat sugar in a small frying pan over low heat until dark golden brown. Add 150ml water and whisk until fully incorporated.
Remove from heat and whisk in rum. Spoon half the syrup over the cooked sponge. Pour the remaining syrup into a serving jug.
To serve, pipe a small amount of Crème Patissiere in the bottom of four parfait glasses. Layer with some pieces of soaked sponge. Cut some slices of Coffee Jelly and drape over the sponge. Pipe some Raspberry Marshmallow over the jelly.
Repeat process, creating two full layers, and finish with some Crème Patissiere and Raspberry Marshmallow. Garnish with raspberries and toasted coconut and serve with Rum Syrup on the side.