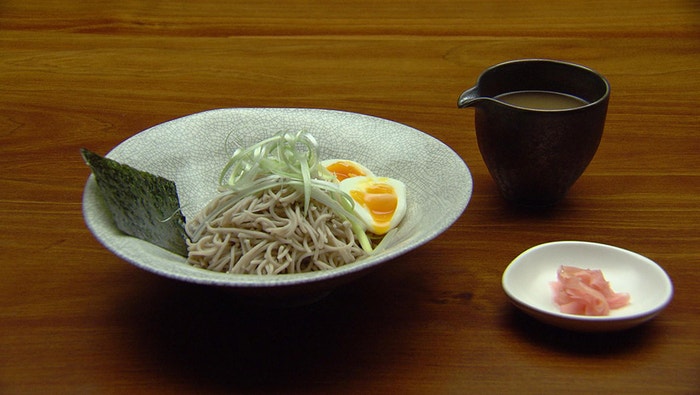 Steps
For the Dashi Stock, place prosciutto in a medium saucepan and set over medium-high heat. Cook until caramelised. Add kombu and 1.4L water and increase heat to high. Just before the stock begins to boil, remove kombu. Once boiling, add bonito flakes and shitake mushrooms, cover saucepan with lid and remove from heat. Allow the flavours to infuse for 10-15 minutes.
Return the saucepan to high heat. Add soy sauce, mirin and sugar and bring to a boil. Continue to boil until the stock is reduced by about one quarter. Strain through a fine sieve, lined with muslin cloth into a clean saucepan. Set saucepan, covered, over very low heat to keep warm until serving.
For the 6 Minute Egg, bring a small saucepan of very lightly salted water to a boil. Carefully add the eggs and cook for 6 minutes. Remove eggs and immediately place into a bowl of iced water. Once cool, peel the eggs and set aside until ready to serve.
For the Soba Noodles, sift buckwheat flour, high protein flour and salt into a large bowl. Add 90ml water to the flour mix and, using fingers, rub the flour with the water until well combined and crumbly.
Tip onto a work surface and press and knead until smooth, adding a little more water if necessary to form a soft, smooth dough. Divide dough into portions.
Dust work surface lightly with tapioca starch. Pass each portion through rollers of a pasta machine, working from widest to narrowest settings, dusting with more tapioca starch if needed.
Pass each rolled portion through spaghetti cutter to form noodles. Dust with extra tapioca starch to prevent noodles from sticking together.
To serve, bring a medium saucepan of water to a boil, add soba noodles and cook for 45-60 seconds. Drain and divide amongst 4 serving bowls. Slice eggs in half and place on top of noodles. Pour hot Dashi Stock over the noodles and garnish with spring onions. Serve with pickled ginger on the side.