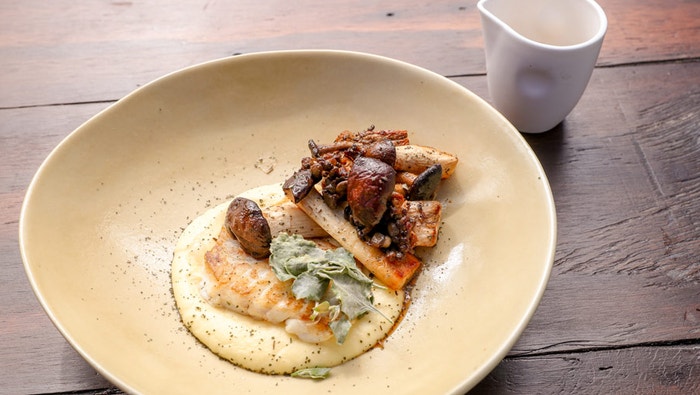 Steps
Preheat oven 160C.
For the Saltbush Dust, place the saltbush on a baking tray and place in oven to bake until the leaves are crispy, about 40 minutes. Remove from oven, set aside to cool.
Strip leaves from cooled stem and crush into a powder, using a mortar and pestle. Set aside until serving.
For the Fish Jus, fillet snappers, reserving bones and trimmings and set fillets aside, in fridge, until ready to pan fry.
Finely chop bones and trimmings and place in a large saucepan. Add oil and place over a medium high heat. Cook, stirring frequently, until golden brown. Add saltbush, mushrooms, salt, sugar, vinegar and pepper and cook until mushrooms have browned, about 5 minutes. Add 500ml water and bring to a boil. Reduce heat and allow to simmer until thickened and reduced by about half, about 10 minutes. Remove from heat.
Strain into a small, clean saucepan and return to a medium low heat. Add butter and whisk until combined. Allow to simmer until thick and smooth, about 5 minutes. Remove from heat and set aside, keeping warm, until serving.
For the Parsnip Puree, bring a small saucepan of water to a boil. Add parsnip and cook until tender, about 20 minutes.
Remove from heat, drain water and place parsnip into a food processor. Add cream, butter and salt and process ingredients to a smooth puree. Pass puree through a sieve, season to taste and set aside, keeping warm, until serving.
For the Sautéed Mixed Mushrooms, cut any larger mushrooms in half, keeping smaller mushrooms whole. Heat a small pan over medium heat. Add butter, mushrooms and salt and sauté until mushrooms are golden and tender, about 4-5 minutes. Remove from heat and drizzle with honey. Set aside, keeping warm, until serving.
For the Pan Fried Snapper, place oil in a large frypan and set over medium heat. Season snapper with salt and fry, skin side down, pressing fillet with a metal spatula, until flesh is opaque halfway, about 5-6 minutes. Turn and cook until fillet is almost cooked through, about another 1-2 minutes. Remove from heat, immediately remove fillets from pan and set aside, loosely covered to keep warm, until serving.
To serve, place two tablespoons of Parsnip Puree onto each serving plate. Top with Pan Fried Snapper and sprinkle with Saltbush Dust. Add Sautéed Mushrooms and garnish with fresh saltbush leaves. Serve with Fish Jus on the side.