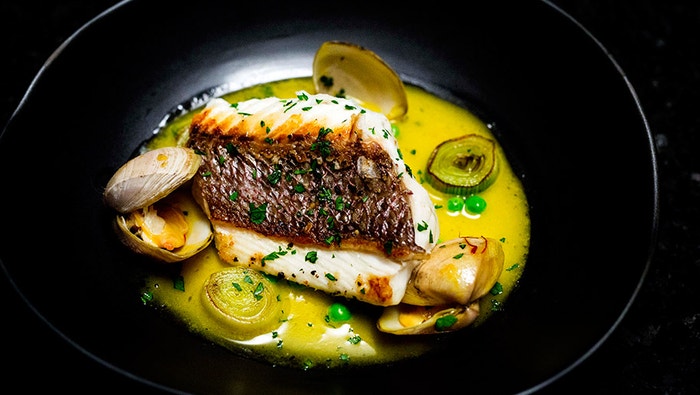 Steps
Preheat oven to 180C.
Cut snapper fillets in half width ways, leaving skin on and set aside in fridge until required. Cut up fish bones and trimmings into small pieces.
To make the Fish Stock, heat 1tbsp oil in large saucepan, add carrot, garlic, onion, celery, peppercorns, thyme and fish trimmings and cook until lightly vegetables softened without browning.
Add water and bay leaf. Bring stock to the boil then reduce heat to simmer for 30 minutes, skim surface regularly to remove any impurities. Strain stock through a fine sieve into a medium saucepan to make 400ml of stock.
To make the Saffron Butter sauce, add Fino sherry and saffron to fish stock and place on medium heat and bring to a simmer.
Add clams and cook until opened, remove clams and set aside.
Reduce sauce gently boiling for 5 minutes. Remove from heat and whisk in butter one cube at a time to emulsify. Stir in lemon juice, season with salt and pepper to taste and set aside.
To cook the Leeks, melt butter in small frypan and add leeks, cook until lightly caramelised and set aside until serving.
To cook the snapper fillets, oil and season reserved fillets. Heat a large frypan on medium heat and place fillets, skin side down into pan until skin is crispy, about 3 minutes. Remove pan from heat and place in oven for 6-7 minutes until cooked through.
Meanwhile, gently reheat sauce and add peas and clams. To serve, divide sauce between 4 shallow bowls, place fish fillet in middle, place 3 clams around fillet, place 3 leeks around the sauce, add a squeeze of lemon and a sprinkle of parsley to finish.