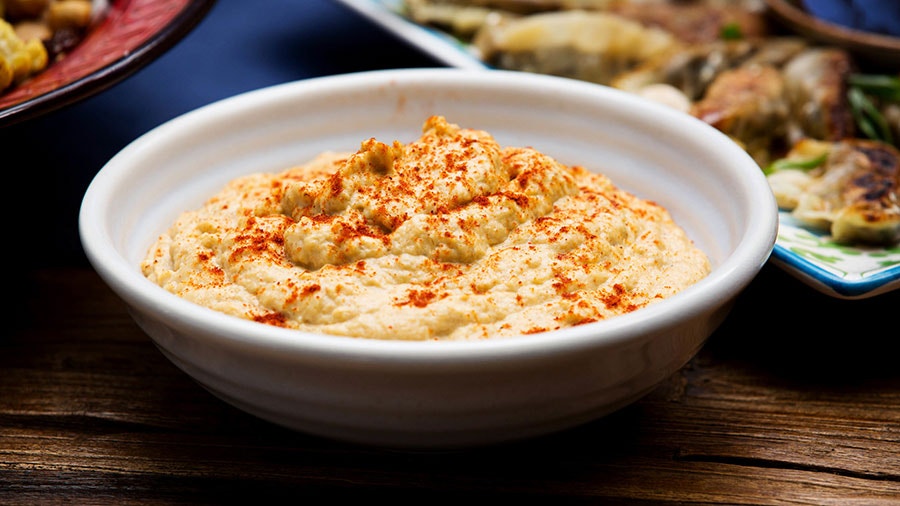 Steps
For the Smoky Eggplant Dip, preheat oven to 200C.
Place eggplant directly onto gas flame and cook for around 6-8 minutes, turning regularly, until all sides are charred and the eggplant flesh is soft. Set aside in a bowl, covered in cling wrap to sweat and cool slightly.
When cool enough to handle, gently peel off skin, ensuring no charred flecks remain on the flesh. Remove the green top of the eggplant and place flesh in a colander to drain excess liquid for about 10 minutes.
When drained, tear cooked flesh into shreds and place in the jug of a blender until needed.
Place garlic in the centre of a square of aluminium foil, gather up the edges and drizzle in 2 tsp olive oil. Season with salt then enclose aluminium to form a sealed parcel.
Roast in the preheated oven until garlic has softened about 25 – 30 minutes. Remove from oven and leave to cool slightly.
When cool enough to handle, squeeze out the garlic flesh, discarding the skins. Add garlic flesh, tahini and lemon to the blender jug along with another tablespoon or two of olive oil. Blitz to a coarse paste, season and transfer to a bowl to serve.