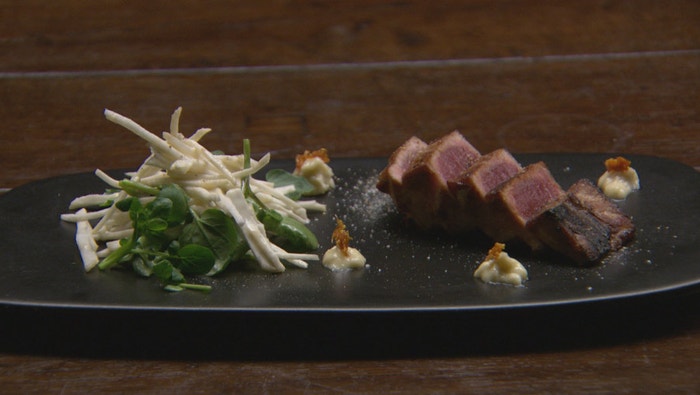 Steps
To prepare the Smoked Seared Tuna, place tuna pieces into a medium bowl and cover with cling film. Fill smoking gun with green tea leaves and place nozzle into the bowl, tightening cling film to seal around the nozzle. Light the tea leaves and allow the bowl to fill with smoke then remove nozzle and seal cling film tightly. Set aside to infuse.
For the Mayonnaise Base, place egg yolk, mustard and vinegar in a bowl. Whisk until pale and creamy then whisk in 1tsp water. Whilst still whisking, pour in the oil in a slow and steady stream and whisk until thick and creamy. Reserve ½ of mayonnaise base in a bowl and set aside for the Celeriac Remoulade.
For the Horseradish Mayonnaise, place remaining ½ of the mayonnaise base into a separate bowl. Add grated horseradish and mix until well combined. Season to taste and set aside.
For the Celeriac Remoulade, place julienned celeriac into a small bowl. Add reserved plain Mayonnaise Base and gently toss to coat. Season to taste and set aside.
To serve, heat a large frypan over high heat. Sprinkle tuna with mirin then add to pan. Sear on all sides. Remove from pan and slice into 1cm pieces. Fan Smoked Seared Tuna slices along side on serving plates. Add some watercress leaves to the side of the tuna and top with Celeriac Remoulade. Dot some Horseradish Mayonnaise around the plate and finish with some inca berries.