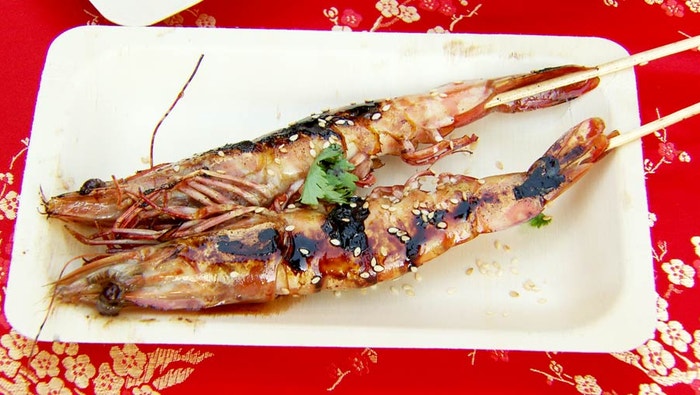 Steps
Soak 8 bamboo skewers in water for 1 hour.
Thread 1 prawn length ways onto each skewer, keeping the prawn straight.
Heat a grill plate over the stove top or on a barbecue over high heat.
Place skewers onto hot plate and douse with Shaoxing and cook for 2 minutes. Turn and add more wine, cooking for 2 minutes or until cooked through.
Plum Sauce
Place garlic, ginger and chillies into the bowl of a small food processor and blitz to a rough paste.
Place a large saucepan on the stovetop over medium heat. Add the peanut oil and the chilli paste and fry until fragrant, about 3-4 minutes. Deglaze the pan with the lime juice. Reduce heat to low.
Place the chopped nashi pears into the bowl of a small food processor and pulse until a fine dice. Add the diced pear to the pan along with the five spice, shaoxing, black vinegar and soy sauce. Stir well and simmer for 10 minutes.
Add the plums, brown sugar and ½ cup water to the saucepan. Simmer, stirring occasionally, over a low heat for 10-12 minutes until plums have collapsed and sauce thickens. Season with extra Shaoxing, vinegar and soy sauce.
Remove from heat and allow to cool before serving.
Serve prawns immediately with Plum Sauce.