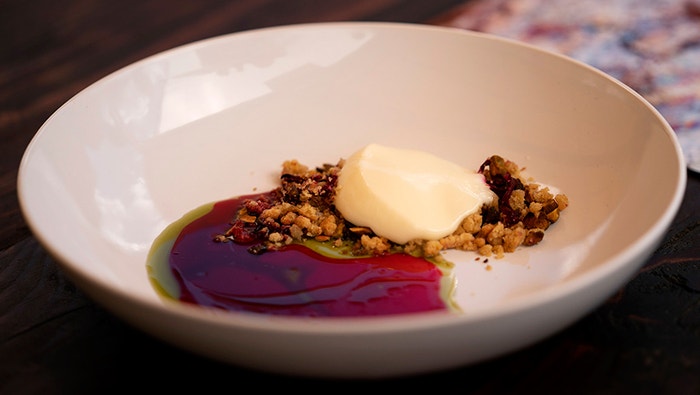 Steps
Preheat oven to 180C.
For the Set Buttermilk, place the cream and sugar into a small saucepan. Set over a low-medium heat until the sugar has dissolved. Remove from heat, add gelatine and stir until dissolved. Transfer to a bowl set over an ice bath and cool before stirring through the buttermilk. Place in fridge to set until serving.
For the Rosella Flower Consomme, place all ingredients in a medium saucepan and set over medium heat. Bring to a gentle simmer and allow to cook for 10 minutes. Remove from heat and transfer the mixture to a bowl. Set aside, in fridge to infuse and cool. Strain through a fine mesh sieve into a clean bowl and return to fridge until serving.
For the Peppermint Gum Oil, place the dried peppermint gum leaves and the grapeseed oil into a small food processor and blitz on high speed for 1 minute. Strain the oil through a muslin lined fine mesh sieve and set aside until serving.
For the Pistachio Nut Crumble, place melted butter and sugars in a bowl and whisk until slightly light and fluffy. Add the eggs and vanilla and continue to whisk until the mixture begins to lighten. Add flour, bi-carb and salt and stir until just combined.
Roll the mixture into 4cm balls and place onto a lined baking tray, flattening slightly. Place in oven to bake for 15 minutes. Remove from oven.
Roughly crumble the cookies then add the chopped pistachios and mix through. Place tray under the grill to toast until golden, about 1 minute. Remove from heat and set aside to cool until serving.
To serve, place a large spoonful of the Pistachio Nut Crumble on each plate. Place a spoonful of the Set Buttermilk onto the crumble. Serve with Rosella Consomme and Peppermint Gum Oil on the side.