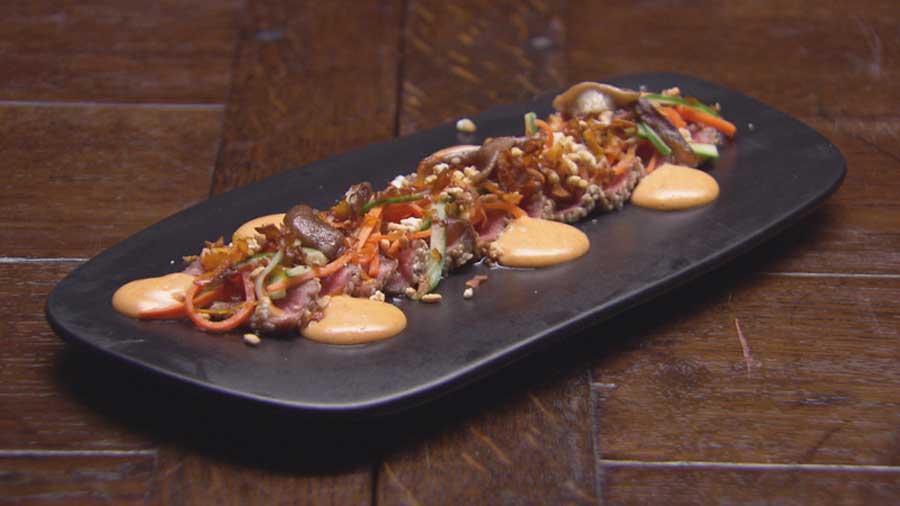 Steps
For the sesame beef, sprinkle seeds, salt and pepper onto a baking tray. Press beef into sesame seeds
Heat 2 tablespoons oil in a non stick pan over high heat and sear beef for 20 seconds on each side. Set aside to rest. When cooled, slice into 2mm pieces and set aside.
For the pickle, place sugar, vinegar and water into a saucepan. Bring to a boil and adjust seasoning. Reduce the amount by two thirds of the original volume. Remove from heat. Place vegetables in a bowl and pour pickling liquid over them. Leave to pickle for 5 minutes and strain. Set aside.
For the gochujang aioli, place egg, apple cider vinegar, salt and sugar to a tall jug. Using a stick blender, gradually add grapeseed oil to the jug in a steady stream until thickened. Add gochujang, garlic and adjust seasoning. Set aside.
For the garnish, heat oil in a small fry pan. When hot, add rice and cook until puffed. Remove from heat and drain rice on absorbent paper.
In the same pan, add carrots to oil and fry for 10 to 15 seconds until golden brown. Remove from oil and drain on paper towel.
Remove all but 1 tablespoon oil from the pan. Add mushrooms and fry until tender. Season.
To assemble, place beef along length of 4 rectangular plates and dot with aioli. Arrange pickled vegetables and mushrooms on top. Garnish with carrot chips and puffed rice.