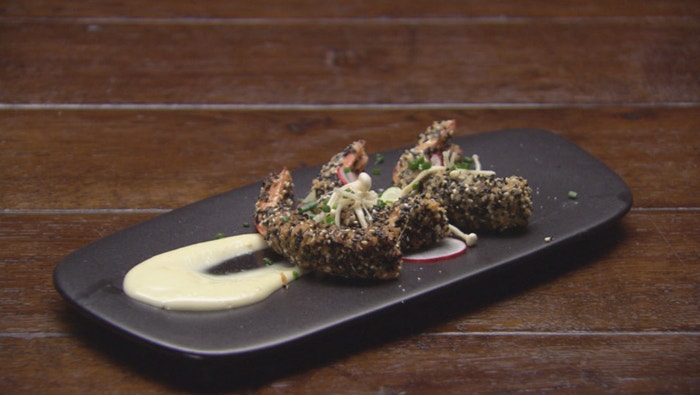 Steps
To prepare the prawns, combine crumbs, black and white sesame seeds and salt and pepper, to taste in a bowl.
Dust prawns with flour, dip in beaten egg then coat well with crumb mixture. Repeat the process with all of the prawns.
In a large pan, heat vegetable oil over medium heat until it reaches 175C. Gently add 6 prawns to the oil and fry for 2 minutes or until golden brown. Remove and set aside on paper towel. Repeat with remaining prawns.
To prepare the vegetables, add grapeseed oil, rice wine vinegar and lemon juice to a medium sized bowl. Stir to combine and season. Add radish, spring onions and mushrooms and toss to coat with the dressing. Set aside.
To make the mayonnaise, place egg, wasabi, sugar, vinegar and salt in a large tall jug. Using a stick blender, blend ingredients until slightly thickened. Continue to blend while adding oil in thin, slow, stream, until emulsified and light in colour.
To serve, spread some mayonnaise onto each serving plate. Place three prawns on each plate, add dressed vegetables and garnish with garlic chives.