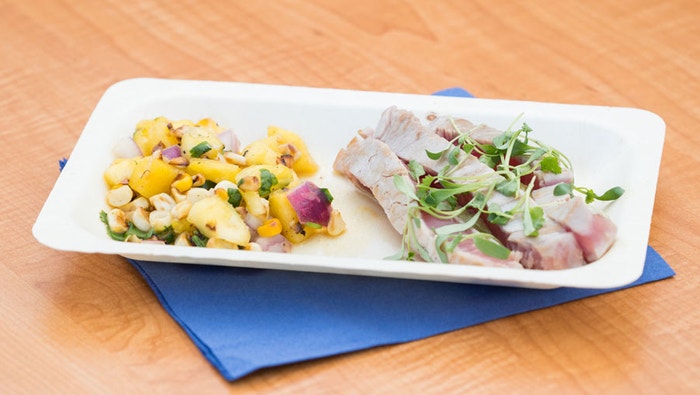 Steps
For the Pineapple Salsa, heat a griddle pan over high heat. Place corn onto griddle pan and grill until tender and lightly charred on all sides. Remove from grill, slice kernels from the cobs and place into a bowl to cool.
Once cool, add remaining ingredients and season with salt, to taste Mix gently to combine and set aside.
For the Avocado Puree, peel avocados and remove stones. Place avocado flesh into a food processor with lime juice and salt. Process until smooth. Transfer to a bowl, cover with cling film and set aside in the fridge.
To cook the Tuna, season tuna steaks with salt. Heat a large non-stick frypan over high heat then add tuna steaks and sear on each side for 15 seconds, keeping inside pink. Remove from grill and set aside to rest for 2 minutes. Once rested, slice tuna into 1.5cm thick slices.
To serve, spoon some Pineapple Salsa to one side of the plate. Smear some Avocado Puree on the other side of the plate and top with some slices of Tuna. Finish with some micro coriander on top of the tuna.