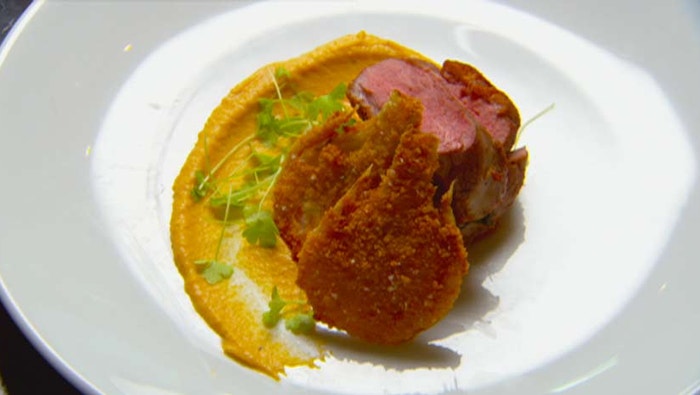 Steps
Duck
Make jus.
Make pumpkin puree.
Make fennel crisps.
Meanwhile, for the duck, preheat oven to 220C.
Heat a large, heavy-based frying pan over medium-high heat.
Season duck breasts, then place skin-side down into pan. Cook for about 5 minutes until skin is deep golden, and the fat has rendered into the pan.
Turn the breasts over, and cook for a further 30 seconds. Transfer to a baking tray, skin-side up, and place in oven for 4-5 minutes or until cooked to medium.
Remove from oven, cover loosely with foil, and set aside to rest for 8 minutes.
To serve, spoon pumpkin puree onto plates. Slice each duck breast into 3 pieces and place on top of the puree. Place 2-3 fennel crisps alongside duck, drizzle with jus and garnish with micro herbs.
Jus
To make the jus, heat oil in a large saucepan over medium-high heat. Cook leg meat and bones for 5 minutes until completely browned. Add carrot, celery, onion and leek, and cook for 5 minutes until vegetables are caramelised, stirring regularly. Add tomatoes and cook a further 5 minutes, stirring regularly. Add thyme, bay leaf and black peppercorns, then increase heat to high. Add Madeira to deglaze pan. Stir for about 1 minute until Madeira has reduced by half. Add red wine, and cook until wine has reduced by half. Add veal stock, bring to the boil, then reduce heat to a simmer for 40 minutes. Skim any scum that rises to the surface.
Strain stock through a fine sieve, then return to a clean saucepan set over medium heat. Cook for a further 10 minutes or until jus is glossy and has reduced to about 250ml (1 cup), skimming regularly.
Remove from heat and whisk in cold butter, 1 piece at a time until incorporated. Keep warm until ready to serve.
Pumpkin Puree
For the pumpkin puree, preheat oven to 220C.
Place pumpkin on a tray lined with baking paper. Drizzle with oil and season with salt and freshly ground black pepper, then toss to coat. Roast for 20 minutes or until tender. Transfer to a colander for 5 minutes to allow any liquid to drain.
Meanwhile, bring cream to the boil in a small saucepan over medium heat for 5 minutes until thickened, and reduced by ¼. Puree pumpkin and cream in a food processor. Strain through a fine sieve and season to taste. Keep warm.
Fennel crisps
For the fennel crisps, half fill a large saucepan or deep fryer with oil to 170˚C.
Combine egg and milk in a bowl, and flour and breadcrumbs in 2 separate bowls. Dust fennel slices in flour, shaking off any excess, the coat in egg mixture, followed by breadcrumbs.
In batches, carefully lower fennel into oil, and cook for about 5 minutes or until golden.
Remove with a slotted spoon, and drain well on paper towel. Season with sea salt, and keep warm.