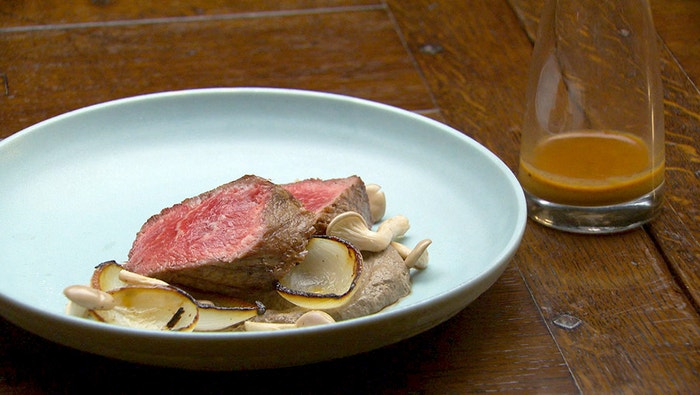 Steps
For the Mushroom Purée, melt the beef fat in a large saucepan over a medium heat. Add onions and fry in the beef fat until translucent, about 5 minutes. Add mushrooms, sweat until they release their liquid and continue to cook until liquid has reduced.
Deglaze the pan with the beef stock and red wine vinegar, and allow to reduce slightly, about 2 minutes.
Add the cream and stir through. Cook for a further 2 minutes over a low heat until the mixture is incorporated and creamy.
Transfer the mushroom mixture to a blender and blitz until a smooth purée. Adjust seasoning and set aside, keeping warm, until needed.
For the Pickled Mushrooms, trim the enoki mushrooms and place into a small bowl with the remaining ingredients. Mix well to combine, then leave to pickle for 20 minutes. Drain, reserving liquid, and set mushrooms aside until needed.
For the Seared Beef, trim the beef into a long rectangles, drizzle with oil and salt well on all sides. Heat a grill pan over a high heat until smoking. Add the beef to the pan and sear for 2 minutes on each side for medium rare, or until cooked to your liking. Remove beef from pan and set aside to rest for 10 minutes or until ready to serve. Reserve juices in pan for sauce.
For the Cream Sauce, reheat griddle pan with pan juices over a medium heat. Add cream to the pan and deglaze. Continue to cook until the cream reduces and thickens, about 1 minute.
Add 2 teaspoons of the reserved pickling liquid and salt to taste. Remove from heat and strain into a serving jug.
To serve, place spoon of the mushroom purée on each plate and smear across plate with the back of a spoon. Arrange the pickled mushrooms around each plate. Slice the beef and add two slices to each plate. Serve wit the Cream Sauce in a jug on the side.