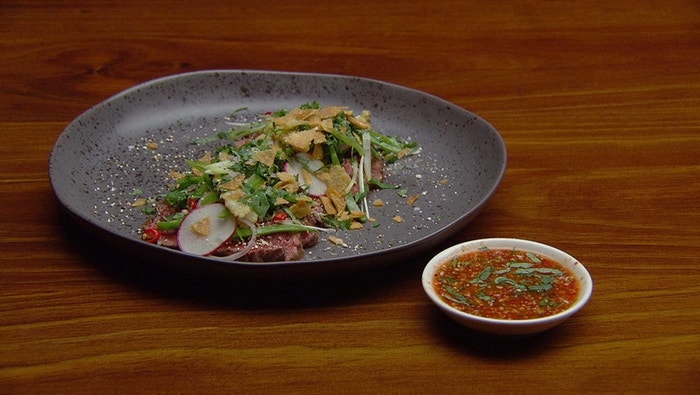 Steps
For the Roasted Rice, place rice in a small sieve and place under running water just to wet rice, allowing water to drain immediately.
Transfer rice to a frying pan and place over medium heat, stirring continuously until the rice becomes an even, golden brown, about 5-10 minutes. Transfer to a mortar and pestle and pound to a fine powder. Set aside 1 teaspoon for Chilli Sauce Dressing and set aside remainder for serving.
For the Chilli Sauce Dressing, place chillies in a small food processor and process to a rough paste.
Place white vinegar, sugar and 25ml water in a small saucepan and set over medium high heat. Bring to a gentle boil, stirring to dissolve the sugar, then add the chilli paste. Cook until reduced and slightly syrupy, about 5 minutes, then remove the saucepan from the heat and set aside.
Meanwhile, pound the palm sugar and salt to a smooth paste using a mortar and pestle. Slowly add lime juice while stirring continuously to dissolve the sugar, then add the fish sauce and reduced chilli sauce syrup. Set aside until serving.
For the Salad, heat a large griddle pan over high heat.
Drizzle baby corn with olive oil and sprinkle with salt and place in griddle pan until slightly charred. Remove from pan, keeping pan on the heat. Slice corn on the diagonal into thin slices and transfer to a bowl. Add snow peas, radish and shallot and toss to combine. Set aside until serving.
For the Seared Beef, rub beef with olive oil and season well with salt and pepper.
Place the beef fillet into the hot griddle pan and cook, turning, until golden brown all over, or longer until cooked to your liking. Remove meat from pan and set aside, keeping warm, to rest until serving.
To serve, slice Seared Beef and place on serving plates. Sprinkle each plate with a little Roasted Rice and salt. Add Salad and garnish with mint and coriander leaves. Add reserved Roasted Rice, lemongrass, mint and coriander to the Chilli Sauce Dressing, stir to combine and drizzle over the Salad.