All Recipes
Seared Beef Fillet with Smoked Beurre Rouge, Crispy Kale, Roast Beetroots and Salsa Verde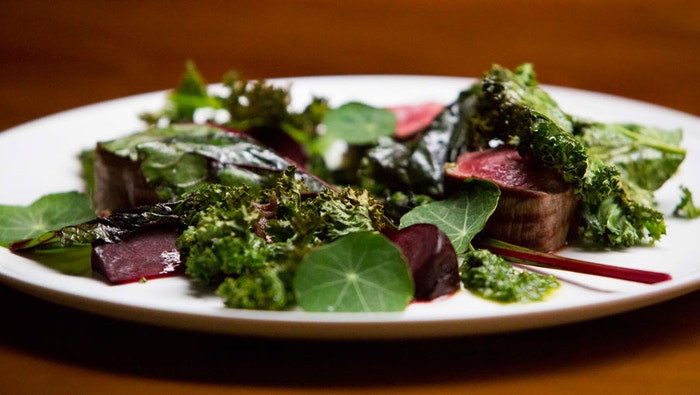 Steps
Preheat oven to 180C.
For the Roasted Beetroot, remove beetroot leaves and set aside. Place beetroot onto a sheet of aluminium foil and drizzle with olive oil, season and enclose foil. Roast until tender, about 45 minutes. Remove from the oven, unwrap and allow to cool slightly. Peel and cut into quarters then set aside.
For the Roasted Garlic, place garlic cloves onto a sheet of foil, drizzle with olive oil, season and enclose foil. Bake for until very tender, about 20-25 minutes. Remove from oven and set aside.
For the Crispy Kale Chips, line a baking tray with baking paper. Spread kale leaves onto tray and drizzle with 1 tablespoon of olive oil. Season with salt and pepper and bake in the oven until crisp, about 10-12 minutes. Remove from oven and set aside.
For the Beurre Rouge, place butter into a bowl and cover with clingfilm. Insert the hose of a smoking gun filled with hickory chips. Light the chips and allow the bowl to fill with smoke. Remove smoking gun hose and seal the bowl tightly with cling film. Reserve smoking gun for use again. Set bowl aside in the fridge for 10 minutes. Repeat the smoking and refrigerating process twice again then set aside.
Meanwhile, place shallot, pinot noir, port and red wine vinegar into a saucepan over medium heat. Simmer and reduce by 2/3. Strain into a clean saucepan and whisk in the cold smoked butter, one cube at a time, until fully emulsified. Season to taste and set aside, keeping warm.
For the Salsa Verde, place all ingredients into a food processor and blitz to a coarse paste. Adjust consistency to with a little more oil if required. Set aside in the fridge.
To cook the Beef, heat a large fry pan over medium high heat. Drizzle beef with olive oil and season with salt and pepper. Add beef to the pan and sear on all sides until medium rare, or cooked to you liking. Remove from pan and set aside to rest. Reserve pan on the heat.
For the Wilted Beetroot Leaves, add oil and beetroot leaves to the reserved fry pan. Cook until slightly wilted, about 1 minute. Finish with lemon juice, season to taste and remove from heat.
To serve, squeeze roasted garlic cloves into 3 places on each serving plate. Slice Beef into 12 medallions and place a medallion on top of each mound of garlic. Arrange Kale Crisps, Wilted Beetroot leaves and nasturtium leaves over plates. Add some Salsa Verde, a drizzle of Smoked Beurre Rouge and chopped anchovy fillets.