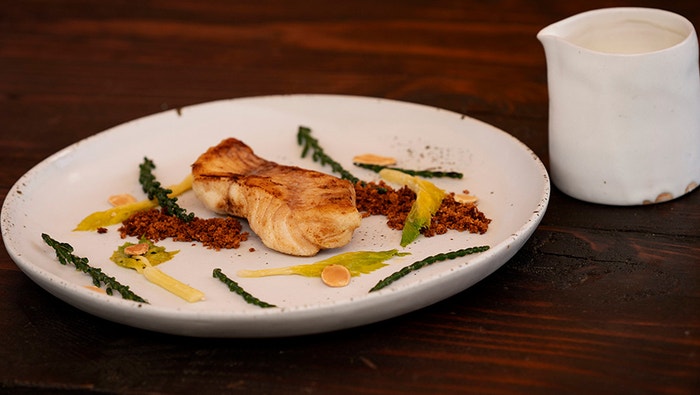 Steps
For the Caramelised Milk, place butter in a small saucepan and set over medium heat to melt. Add milk powder and stir constantly until a medium caramel colour. Remove from heat and strain through a muslin lined sieve to reserve milk solids. Drain solids on paper towel and set aside until serving
For the Buerre Blanc, place lemon juice, lemon aspen and shallots in a frypan and cook over medium heat until reduced to 1/3 cup. Add cream and reduce liquid to 1/4 cup. Gradually whisk in butter, a little at a time until sauce is emulsified, thick and glossy.
Remove from heat, strain through a fine sieve into a serving jug. Add capers and stir through. Set aside, keeping warm, until serving.
For the Brown Butter Vegetables, half fill a medium frypan with salted water and bring to a boil over high heat. Add samphire to blanch for 1 minute and celery hearts for 20 seconds. Remove from water and place in a bowl of iced water to cool. Remove from water and drain on paper towel.
Meanwhile, place butter in a small fry pan, set over low medium heat and cook until, stirring until a medium caramel colour.
Place thyme and garlic in the bottom of a muslin lined chinois. Strain butter through chinois into a medium bowl. Add samphire and celery and toss to coat in the butter. Season with sea salt and set aside, keeping warm, until serving.
For the Barramundi Cod, heat extra virgin olive oil in a medium non-stick fry pan over high heat. Season barramundi fillets with salt on both sides and add to the pan, skinned side down. Fry until cooked two thirds of the way through, about 3-4 minutes. Add butter and continue to fry until just cooked through, basting fish with the melted butter, about another 1-2 minutes. Remove from pan and drain on paper towel.
To serve, place a Barramundi Cod fillet on each serving plate. Add Brown Butter Vegetables and a spoonful of Caramelized Milk. Pour some Beurre Blanc on the plate and garnish with toasted flaked almonds.