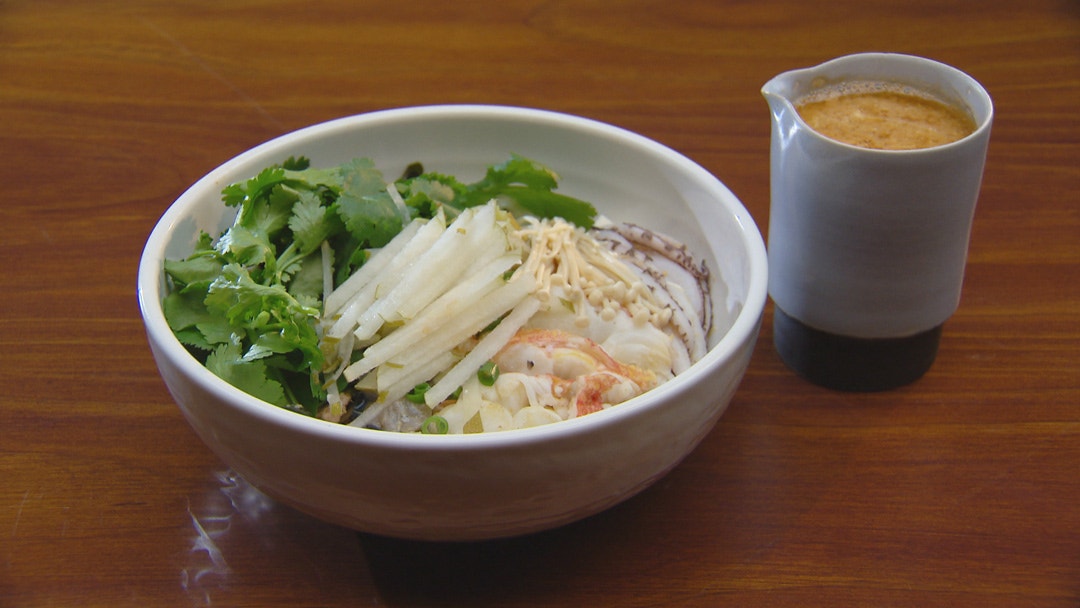 Steps
Bring a large saucepan of water to the boil.
Place the lobster into the boiling water and cook for 2 minutes. Remove the lobster from the water and using a folded tea towel to protect your hands, remove the head and discard. Use kitchen scissors to snip through the belly section. Using the tea towel again, press down on both sides of the shell so you can carefully ease out the tail meat. Set tail meat aside.
Combine the soup base seasoning sachets with 5 cups water in a medium saucepan over high heat. Bring to the boil then add the pork mince and wakame. Add the noodles and cook until al dente. Strain the broth through a sieve into a clean saucepan and transfer the noodles to 2 large serving bowls. Scatter with pork and wakame.
Place the lobster tail into the broth and bring to a simmer. Poach until just cooked through about 7-8 minutes depending on size, then remove from broth and slice into 1cm medallions. Remove from the broth and arrange over noodles.
Add the tofu to the serving bowls.
Poach the calamari tentacles and oysters in the broth until just cooked through, about 1 minute. Add to serving bowls. Blanch the enoki mushrooms in the broth for a few seconds and add to serving bowls. Finally, whisk the egg through the broth and pour over ingredients in the bowl. Garnish with nashi pear and fresh coriander. Serve immediately.