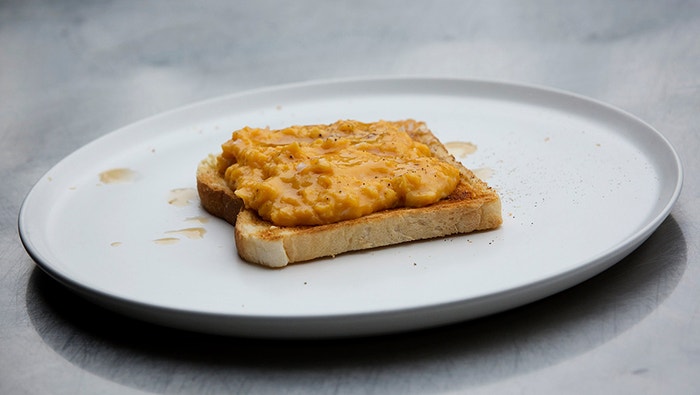 Steps
Place a medium saucepan of water over medium heat and bring to a simmer.
Meanwhile, place the eggs, cream, milk and butter into a large pyrex mixing bowl. Season with salt and pepper. Use a fork to whisk well.
Place the bowl of egg mixture over the saucepan saucepan of simmering water. Use a silicone spatula to gently stir the eggs. Lift the bowl occasionally to ensure the water below does not boil. Continue to stir until the eggs are just set, about 20-30 minutes.
Meanwhile, to make the Beurre Noisette, place the butter into a small saucepan over medium heat and cook until browned, but not burnt. Remove from the heat and set aside until needed.
Once the scrambled eggs are ready, remove from the heat and season with salt and pepper.
For the Toast, place the white bread into the toaster and toast.
Butter the toast ensuring to spread butter across the whole surface to the edges and place onto serving plate.
Spoon the Scrambled Eggs onto buttered toast and finish with a drizzle of the Beurre Noisette and sherry vinegar. Season with salt and pepper and serve.