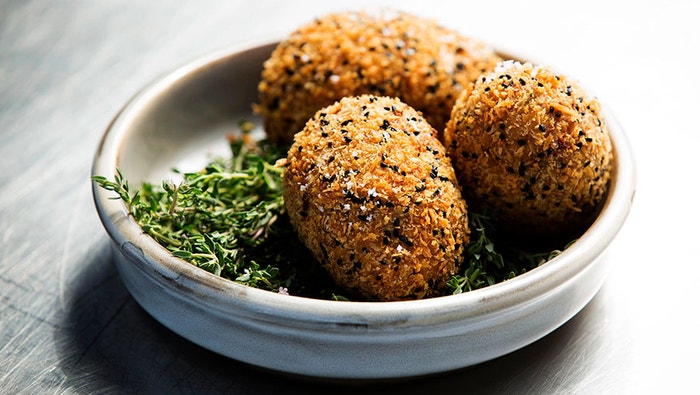 Steps
Preheat oven to 170C. Put a griddle pan over high heat.
Once the griddle pan is very hot, lay the eggplants onto the grill and grill for 45 minutes, turning occasionally, until charred all over and the flesh within is soft and smoked.
Put the eggplants in a bowl and, once cool enough to handle, scoop out the flesh and discard the black skin. Put the flesh in a colander and set aside for an hour, squeezing it three or four times, to extract as much liquid as you can. Transfer to a large bowl.
Spread out the chopped almonds and almond meal onto a small baking tray and roast in the oven until golden brown, about 8-10 minutes. Remove from the oven and add to the bowl of eggplant flesh.
Heat the olive oil in a medium frying pan over medium heat. Add the onions and fry, stirring a few times, until caramelised and soft, about 7-8 minutes. Add the garlic, herbs and spices, cook for another minute then remove from the heat and add to the eggplant mix. To the eggplant mix, stir in the cheese and 1/3 teaspoon of salt and mix until well combined.
Bring a medium saucepan of water to the boil over medium heat. Once boiling, lower in 8 of the eggs and boil for 5 minutes. Remove the eggs from the saucepan and plunge into cold water to cool, then peel carefully and set aside.
Break the remaining 2 eggs into a small bowl and whisk. Put the flour in a second small bowl with ½ teaspoon of salt, and mix the panko and nigella seeds in a third bowl.
Divide the eggplant mix into 8 equal portions and place each portion between 2 sheets of cling film. Using your hands, press down each eggplant portion into a 10-11cm diameter circle, about 0.5cm thick. Peel off the top layer of cling film and put a peeled egg in the centre of the eggplant circle. Draw up the sides of the cling film under the eggplant, so the mix envelops the egg completely, then set aside and repeat with the remaining eggs.
Working with 1 eggplant-encased egg at a time, roll it first in the flour, then dip in the egg and finally roll in the panko mix, to coat all over. Repeat with the remaining eggs.
Heat the sunflower oil in a medium saucepan over medium heat to 175C. When the oil reaches temperature, deep-fry 2 eggs at a time, turning halfway, until golden brown all over, about 3-4 minutes. Use a slotted spoon to transfer the fried eggs to a plate lined with paper towel, and repeat with the remaining eggs.
To plate, spread a bunch of thyme sprigs onto the plate to create a nest. Place the eggs onto the bed of thyme and serve.