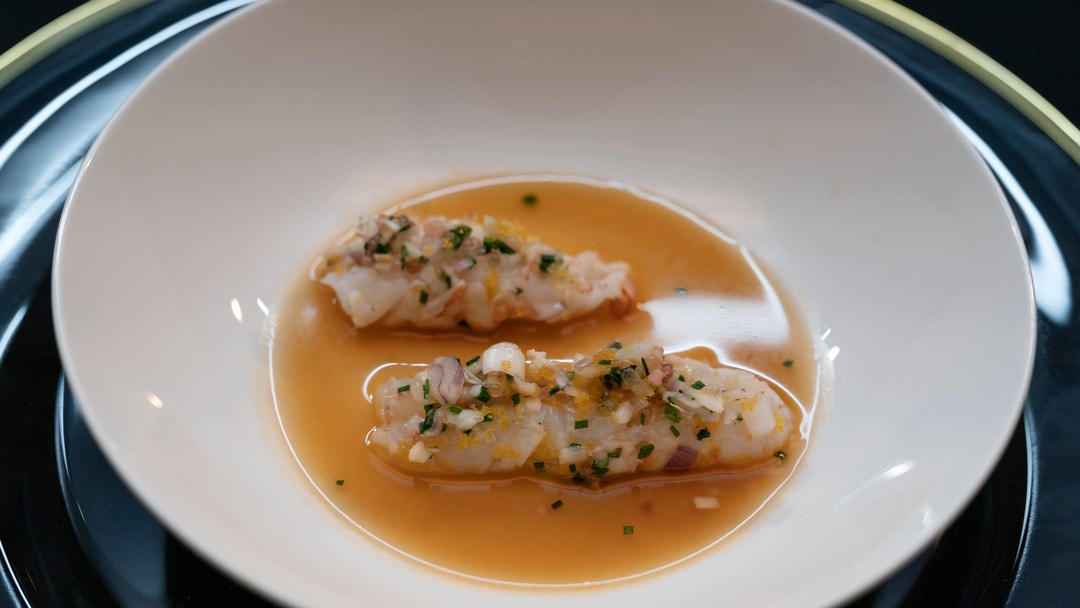 Steps
Bring a large saucepan of approximately 2 litres of water and the salt to the boil.
Working with one scampi at a time, weigh each scampi and for every 100g, boil for 1 minute and 30 seconds.
Once cooked, remove scampi from water and rest on a tray for at least half the cooking time. Place a probe thermometer in the thickest part of the scampi and allow to rest up to 46°C. When this temperature is reached, place the scampi into an ice bath and chill for 15 minutes. Once chilled, peel and reserve shells. Place scampi onto a heatproof tray.
For the Salsa, combine ingredients in a bowl and set aside in the fridge.
For the Curry Broth, crush reserved shells as finely as possible. Place into a large saucepan with oil and stir over heat until caramelised.
Add chicken stock and water and simmer on lowest heat until reduced by 2/3's, about 45 minutes. Add fennel seeds, cumin, turmeric, paprika, mace and orange rind and simmer for a further 10 minutes. Strain through a super bag into a small saucepan and season to taste. Finish with a squeeze of lemon juice.
To serve, using a blow torch, lightly char the scampi and place into wide shallow bowls. Top each with a small spoonful of salsa. Heat the broth and pour until halfway up the scampi.